Outline
STHM-3364 are all-in-one devices which integrate encoding (MPEG-2, MPEG-4/AVC H.264) and modulation to convert HDMI/YPbPr /CVBS (Pr in) signals etc to digital RF output.
To meet customers' various requirements, STHM-3364 is also equipped with 1 ASI input, and output with 2 ASI ports and 1 IP port.
The signals source could be from satellite receivers, closed-circuit television cameras, Blue-ray players, and antenna etc. Its output signals are to be received by TVs, STB and etc with corresponding standard.
STHM-3364 series products are wildly used in public places such as metro, market hall, theatre, hotels, restaurants and etc for advertising, monitoring, training and educating in company, schools, campuses, hospital… It's a good choice to offer HD channels and more.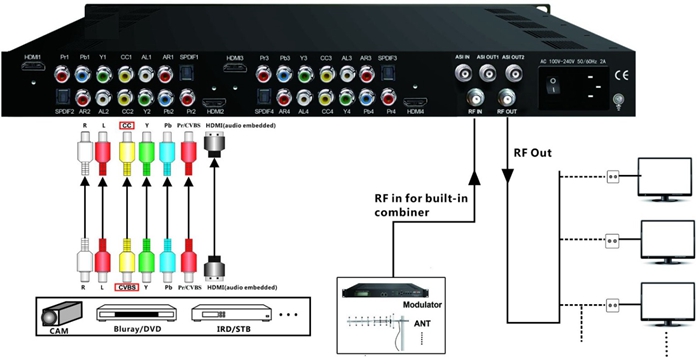 Features
MPEG2 HD & MPEG4 AVC H.264 HD video encoding
DD AC3 2.0(Optional), MPEG4-AAC, MPEG2-AAC, MPEG1 Layer II audio encoding
Support DD AC3 (2.0/5.1/7.1) passthrough (for HDMI interface only)
4* HDMI/YPbPr/CVBS (Pr in) channels in
1*ASI in for re-mux; 1*RF in for RF mix
2*DVB-T RF out (4* DVB-C,2*ISDB-T,4*ATSC RF out optional); ASI out; IP out
Support EAS control for DVB-C and ATSC RF out--Optional
Support CC (Closed Caption) EIA608, (from CVBS source only)
Support Low Delay
LCN (Logical Channel Number) support
VCT (Virtual Channel Table) support— for DVB-C and ATSC
Excellent modulation quality
LCD display, Remote control and firmware
Web-based NMS management; Updates via web
Principle Chart
Technical Parameter
Specifications
Encoding Section

Video (HDMI)

Encoding

MPEG2; MPEG4 AVC/H.264

Interface

HDMI*4

Resolution

1920*1080_60P, 1920*1080_50P

(For MPEG 4 AVC/H.264 only),

1920*1080_60i, 1920*1080_50i,

1280*720_60p, 1280*720_50P

Low Delay

Normal, Mode 1, Mode 2

Aspect Ratio

4:3; 16:9

Audio (HDMI)

Encoding

MPEG1 Layer II; MPEG2-AAC; MPEG4-AAC;

DD AC3 (2.0) Optional;

DD AC3 (2.0/5.1/7.1) passthrough

Interface

HDMI*4 /SPDIF*4

Sample rate

48KHz

Bit rate

64/96/128/ 192/256/320kbps

Video (CVBS/YPbPr)

Encoding

MPEG2; MPEG4 AVC/H.264

Interface

CVBS/YPbPr*4 (RCA)

Resolution

CVBS: 720*576_50i, 720*480_60i

YPbPr:1920*1080_60i, 1920*1080_50i;

1280*720_60p, 1280*720_50P

Audio (L/R)

Encoding

MPEG1 Layer II; MPEG2-AAC; MPEG4-AAC;

DD AC3 (2.0) Optional

Interface

4*Stereo/8*mono/4*SPDIF

Sample rate

48KHz

Bit rate

64/96/128/ 192/256/320kbps

DVB-T Modulator Section (Option)

Standard

EN300744

FFT mode

2K, 8K

Bandwidth

6M, 7M, 8M

Constellation

QPSK, 16QAM, 64QAM

Guard Interval

1/4, 1/8, 1/16, 1/32

FEC

1/2, 2/3, 3/4, 5/6, 7/8

MER

≥42dB

RF frequency

30~960MHz, 1KHz step

RF out

COFDM DVB-T out (2 carriers combined out)

RF output level

-30~ -10dbm (81~97 dbµV), 0.1db step
DVB-C Modulator Section (Option)

Standard

J.83A (DVB-C), J.83B, J.83C

MER

≥43dB

RF frequency

30~960MHz, 1KHz step

RF output level

-30~ -10dbm (77~97 dbµV), 0.1db step

Symbol rate

5.000~9.000Msps adjustable

RF Out

4*DVB-C adjacent carriers combined output




J.83A

J.83B

J.83C

Constellation

16/32/64/128/ 256 QAM

64/ 256 QAM

64/ 256 QAM

Bandwidth

8M

6M

6M

ISDB-T Modulator Section (Option)

Standard ARIB STD-B31

Constellation DQPSK,QPSK, 16QAM, 64QAM

Guard Interval 1/32, 1/16, 1/8, 1/4

Transmission Mode 2K, 4K, 8K

Guard Interval 1/32, 1/16, 1/8, 1/4

Code rate 1/2, 3/4, 5/6, 7/8

RF frequency 30~999MHz, 1KHz step

ATSC Modulator Section (Option)

Standard

ATSC A/53

Constellation

8 VSB

RF output level

-30~ -10dbm (77~97 dbµV), 0.1db step

MER

≥42dB

RF frequency

30~999MHz, 1KHz step

System

Local interface

LCD + control buttons

Remote management

Web NMS

Stream Out

2 ASI mirrored out (BNC type, 100M);

IP (4 SPTS+1 MPTS) over UDP, RTP/RTSP out, RJ45, 100M (MPTS is available for DVB-C/ATSC out versions)

NMS interface

RJ45, 100M

Language

English

General

Power supply

AC 100V~240V

Dimensions

482*400*44mm

Weight

4.5 kg

Operation temperature

0~45℃