Description: MPEG2/MPEG4 HD 4-in-1 (2 in 1) Encoder
Model Number: STHD-4515D
Photo: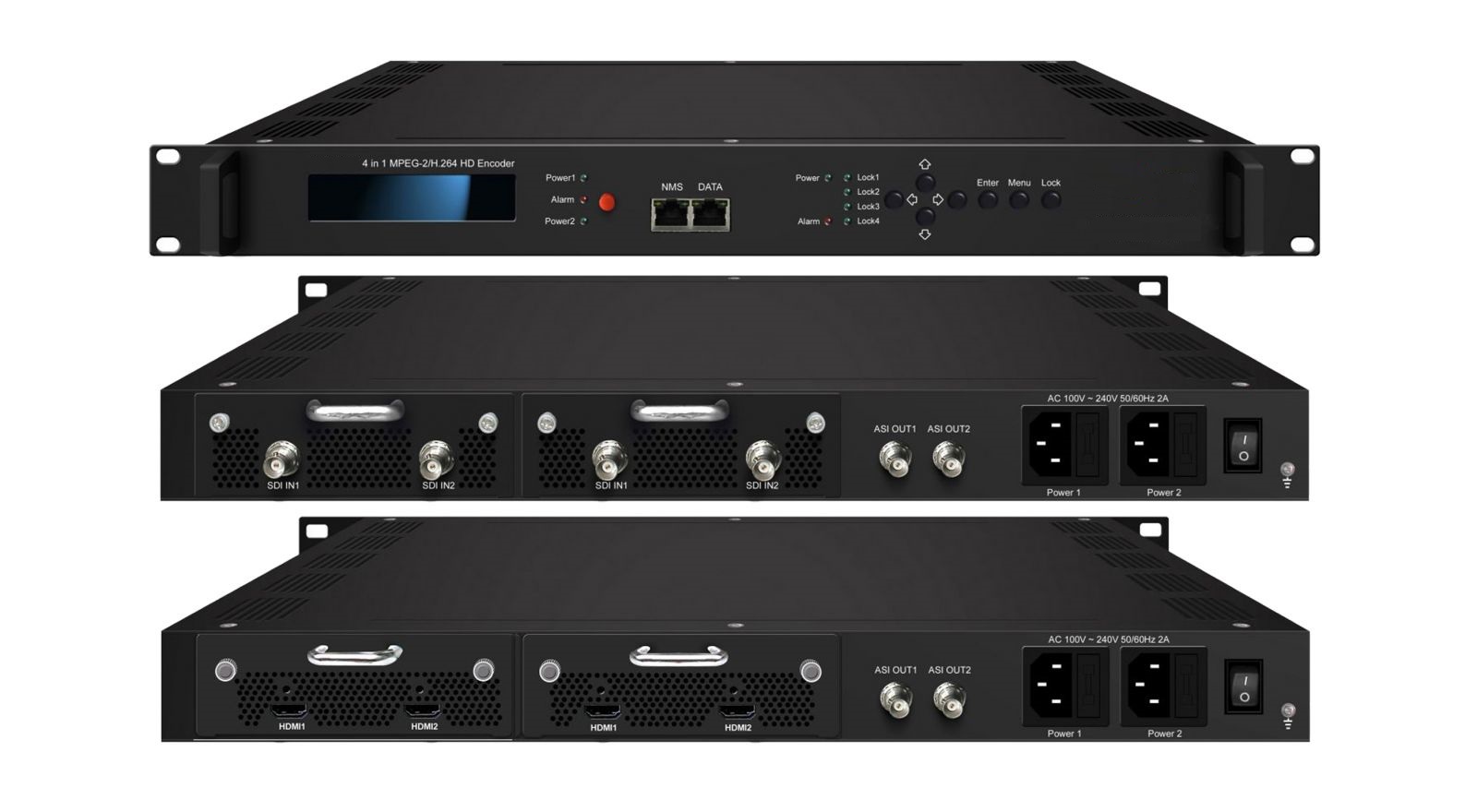 Outline
STHD-4515D 4‐in‐1 MPEG2/H.264 HD Encoder are professional HD audio & video encoding device with powerful functionality. It has equipped with 4 HD‐SDI or 4
HDMI channels input supporting MPEG‐2 and MPEG‐4 AVC/H.264 video encoding and
MPEG‐1 Audio layer 2, LC‐AAC, HE‐AAC and DD AC3 audio encoding. The 4 encoded programs will output through ASI and IP ports in MPTS or SPTS.
It adopts inner drawer‐type structural design which greatly facilitates the change of encoding modules if needed..
Features
* Dual power supply
* MPEG2 HD/SD & MPEG4 AVC/H.264 HD/SD video encoding
* MPEG1 Audio Layer 2, LC-AAC, HE-AAC and AC3 audio encoding
* Support dialog normalization (applicable for DD AC3)
* 4*HD-SDI or 4*HDMI input
* Support VBR/CBR rate control mode
* Support CC (closed caption) EIA 608 & EIA 708 for HD-SDI input
* Support Low Latency function
* Support PSI/SI editing and inserting
* Supports IP null packet filter
* ASI output, IP (MPTS & 4 SPTS) output over UDP, RTP
* LCD display, Remote control and firmware
* Web-based NMS management; Updates via web
Principle Chart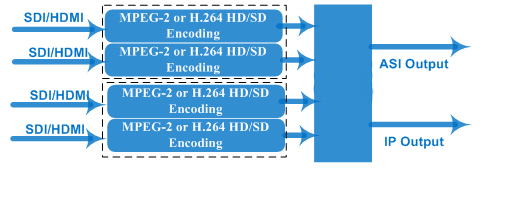 Technical Parameter
Encoding Section
Video
Encoding

MPEG2 & MPEG4 AVC/H.264

Input

HD-SDI*4 or HDMI*4

Resolution

1920*1080_60P, 1920*1080_50P, (-for MPEG4 AVC/H.264 only)

1920*1080_60i, 1920*1080_50i,

1280*720_60p, 1280*720_50P

720*480_60i, 720*576_50i

Bit Rate

0.5~19.5Mbps for H.264 encoding

1~19.5Mbps for MPEG-2 encoding

Rate Control Mode

CBR/VBR

Chroma Sample

4:2:0

Aspect Ratio

16:9, 4:3
Audio
encoding

MPEG1 Layer II, MPEG2-AAC, MPEG4-AAC, Dolby Digital AC3 (2.0)

Dialog Normalization (Applicable for DD AC3 encoding only)

-31 ~ -1 dB

Sample rate

48KHz

Bit rate

64kbps, 96kbps,128kbps, 192kbps, 256kbps, 320kbps







System
Local interface

LCD + control buttons

Remote management

Web NMS

Low Latency Mode

Normal, mode 1, mode 2

output

2*ASI out (BNC type);

IP (1 MPTS & 4 SPTS) over UDP, RTP (RJ45, 100M)

NMS interface

RJ45, 100M

Language

English
General
| | |
| --- | --- |
| Power | AC 100V~240V, 45W |
| Dimensions | 482*400*44mm |
| Weight | 4.5 kgs |
| Operation temperature | 0~45℃ |