What is Hotel IPTV?
Table of Contents
2. What is the IPTV system for hotels?
2.1 What is hospitality solutions?
2.2 What is the structure of IPTV?
Head-end Equipment in Hotel Machine Room
2.3 Smart TV Solutions for Hotels
2.3.1 How do I add an IPTV App to Hotel smart TV?
2.3.2 How does the IPTV app work in Hotel Rooms?
A.Hotel IPTV System-OEM Version
4.1 What is the benefit of integrated PMS with IPTV?
4.2 How to integrate IPTV with hotel PMS?
1. What is Hotel IPTV?
In the rapidly evolving hospitality industry, hotel operators are consistently seeking innovative technology solutions to enhance guest experiences. One such solution gaining traction is the Hotel IPTV (Internet Protocol Television) system, which offers an advanced and personalized entertainment experience for guests during their stay. This cutting-edge technology not only serves as a valuable amenity for hotels but also as a powerful tool for boosting guest satisfaction and building brand loyalty.
IPTV systems seamlessly integrate with hotel networks and display devices, utilizing IP-based infrastructure to deliver live TV channels, video-on-demand, and interactive information services. By leveraging this technology, hotel operators can offer a tailored entertainment package, including customized channel line-ups and multi-language support, catering to the varying needs and preferences of their diverse clientele. The scalable nature of IPTV solutions also allows hotels to effortlessly adapt their offerings as guest demands evolve, ensuring an up-to-date and sophisticated in-room media experience.
2. What is IPTV System for Hotels?
IPTV (Internet Protocol Television) has become increasingly popular in recent years, providing an alternative to traditional cable and satellite television services. This technology delivers TV content over an IP network, ensuring a seamless and high-quality viewing experience. In this section, we will discuss the key components of an IPTV system and 4kinds of solutions.
2.1 What is a hospitality solution? How does hotel IPTV work?
Hotel IPTV is an innovative solution that supports an enhanced guest experience while reducing operational costs for hoteliers. With its flexibility and ability to deliver tailored content, hotel IPTV is an essential technology for hotels seeking to stay competitive in the hospitality industry.

Following are 4kinds of IPTV Solutions for Hotels, including IPTV diagram, advantages, and disadvantages:
Signal Source→ IPTV server→switch→STB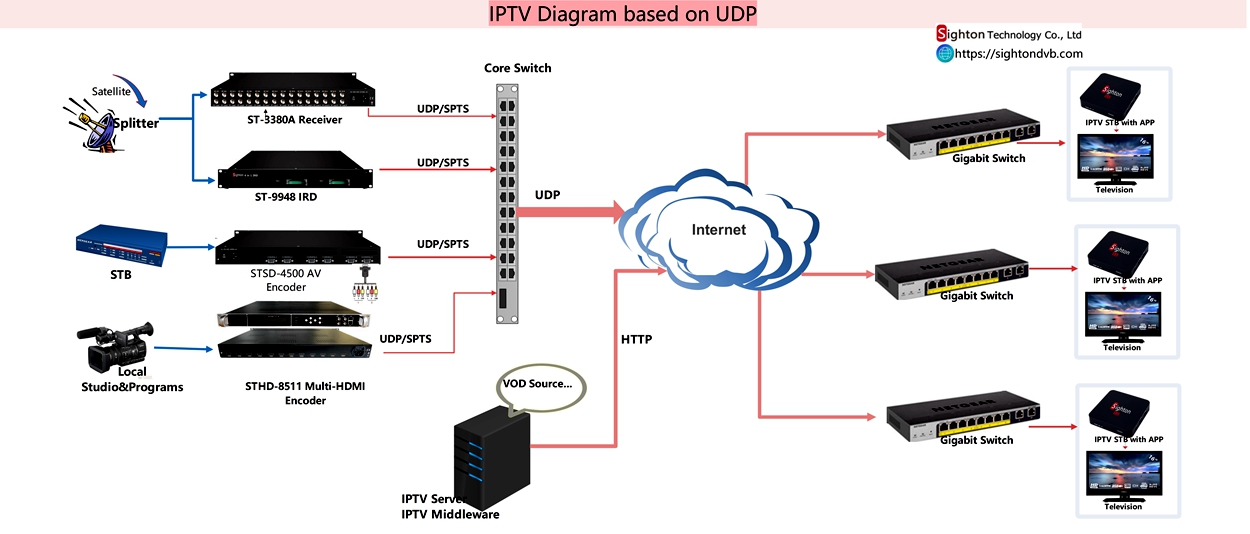 Advantage: Support all IPTV functions, like LIVE, VOD, AD, and Booting Video….
Can control all STB behavior, any STB can play any channel, you can control it from the IPTV management page.
Disadvantage: The cost of the server and Middleware is not cheap.
Source (SPTS)→switch→STB
Advantage: Minimum cost; no need for a server, only need one APK installed in STB;
Disadvantage: Cannot control all STB behavior; once need to update STB APK, need to update one by one.
Source→ Gateway(STGI-7100F)→switch→STB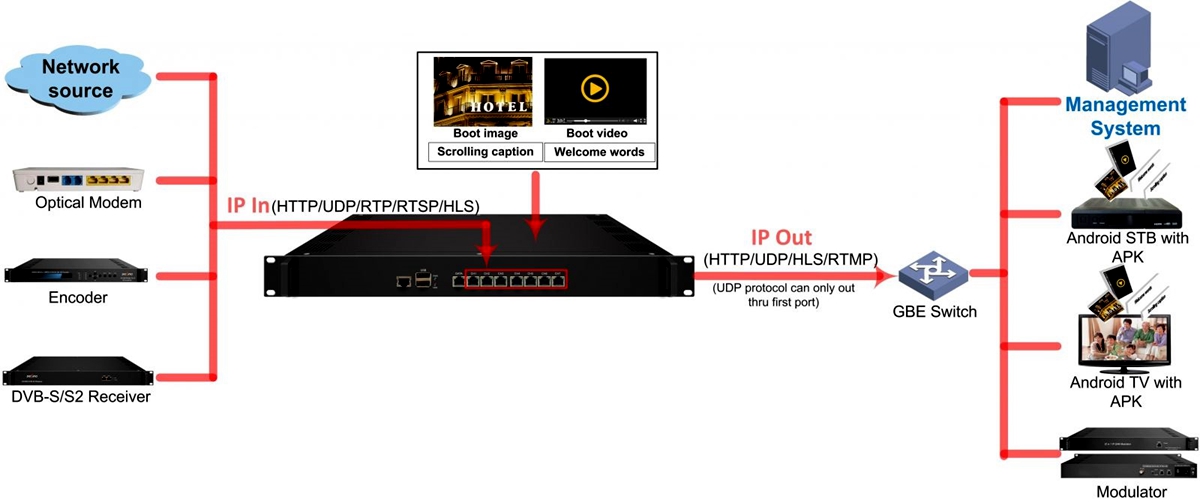 STGI-7100F Gateway is used for the protocol conversion scenarios and streaming media distribution scenarios.
Advantage: Support Live, AD, and booting video;Support update it from STB; Realize the program list from the management page; Cost-effective
Disadvantage: only can connect a maximum 200 STB
Source→ Gateway Server (STGI-7100I )→ switch→ STB

Advantage: Support live, VOD and AD, ordering services, hotel self-run video program, and so on;
Multiple functions with cost-effective, no need for extra Server and Middleware;
Can control STB behavior; can update it from STB; can realize program list from management page.
Disadvantage:Only can connect a maximum of 600 STB/Smart TV;
The cost of the IPTV Gateway Server (STGI-7100I)
2.2 What is the structure of IPTV?
The core components of an IPTV system include the signal source, server, and user-facing set-top box.
The IP network, which can be wired or wireless, enables the transmission of multimedia streams. The signal source is delivered from the server to the set-top box, allowing users to access and view their desired TV channels through their television sets.
Option1:For the signal source, we can choose programs from satellites and receive them through professional receivers. If the programs are free, use a gateway receiver; if the programs are encrypted, you need to use IRD with CAM.
Option 2: Receiving the local cable TV programs as your hotel signal source, decode and receive them with set-top boxes, and then encode it with a multi-channel encoder to output IP stream.
Option 3: It can also receive resources from the Internet, and perform stream protocol conversion through the gateway server.
Server: Receive live channels and distribute and support VOD with an Hard Disk
It integrates IPTV hotel Middleware, managing end users and distributing programs, it also provides value-added services.
What TV do hotels use? What do hotels use for TV?
Option1: Smart TV
Install IPTV App on the TV
Integrated decoding function, and connect server
Option2: Normal TV + STB
Install IPTV App on box
Set-top box decodes the channels from the front-end
IPTV App cooperates with the server for management and multi-functions realization
2.3 Smart TV Solutions for Hotels
Let us install the hotel version APP on the smart TV and connect the server.
Step1. Install APP,iptv3_2.6.0_20220421_duer.apk to Smart TV
Step2. Setting the Local IP address of the Android Smart TV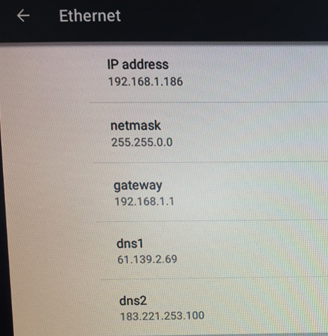 Step3. Setting an IP address needs to be able to connect to the public network. It is normal that the TV's built-in browser can browse the web normally.
Step4. Enter the homepage of the APP, if there is a language option, press English to confirm and enter the main interface. On the main interface, press 111999 or up key (3 times) and down(3 times) to enter the setting background.
Step5. The background interface, as shown below, needs to fill in the server address and port.
The client's test remote server address is 19.10.1.35, port 8030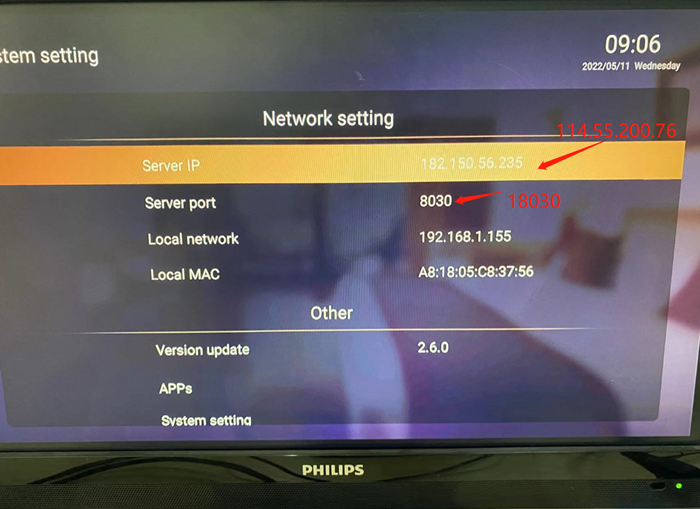 Step6. After configuration, return to the main interface, and the correct icon will be displayed. Indicates that the connection to the server is successful.
Step7. Configure the background live broadcast, on-demand data, and provide testing.
IPTV Hotel Management: 182.150.56.235:8030/iptv2
User: admin
password:1234569
The IPTV app acts as a connection between the user and the server, gains the license from the hotel server, and allows the user to access the content they want to watch.
The app communicates with the server using an internet or hotel LAN connection.
IPTV apps offer a wide range of live channels and on-demand content, hotel add-value functions..
3. What are the features of IPTV Hotel
Compared with cable TV systems for hotels, IPTV hotel provides the following functions that cable TV cannot provide.

Live time-shift
It gives users the ability to pause, rewind, or fast-forward through content – a feature often unavailable with traditional broadcasting systems. This is particularly valuable for hotel guests, who may have inconsistent schedules or limited time to watch live broadcasts.
VOD
IPTV's on-demand ensures that viewers can access and watch their favorite content whenever they choose. This interactivity contributes to a more engaging and personalized viewing experience. This is achieved by streaming content through a hotel's internet network, allowing users to access their desired programs and movies anytime.
Personalized Customization
A.Hotel IPTV System-OEM Version
You can upload your own picture to the hotel home page, edit welcome words, and upload your logo...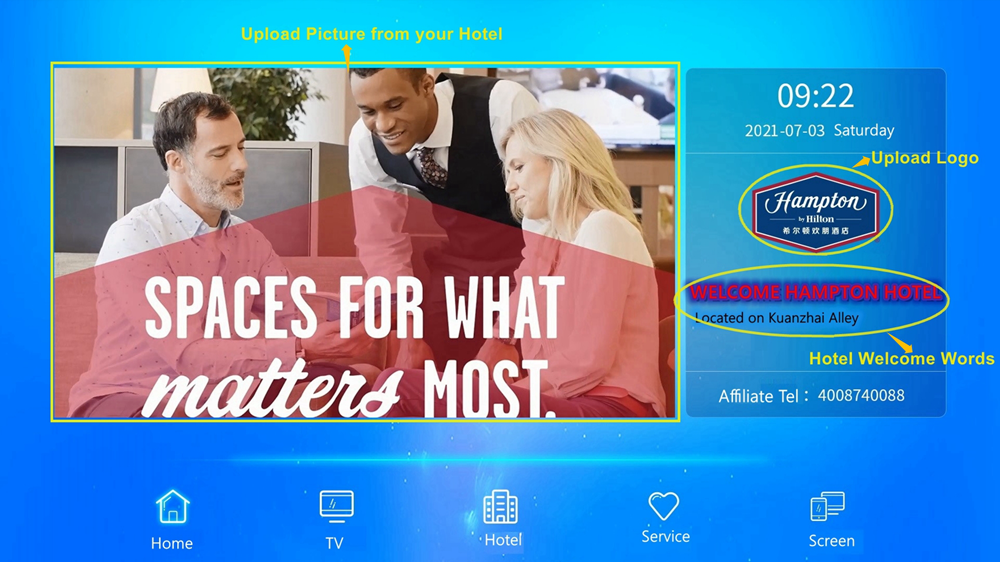 We can edit home page information via web management. Besides uploading hotel pictures, the hotel's logo, and words, it also supports uploading the hotel's own video.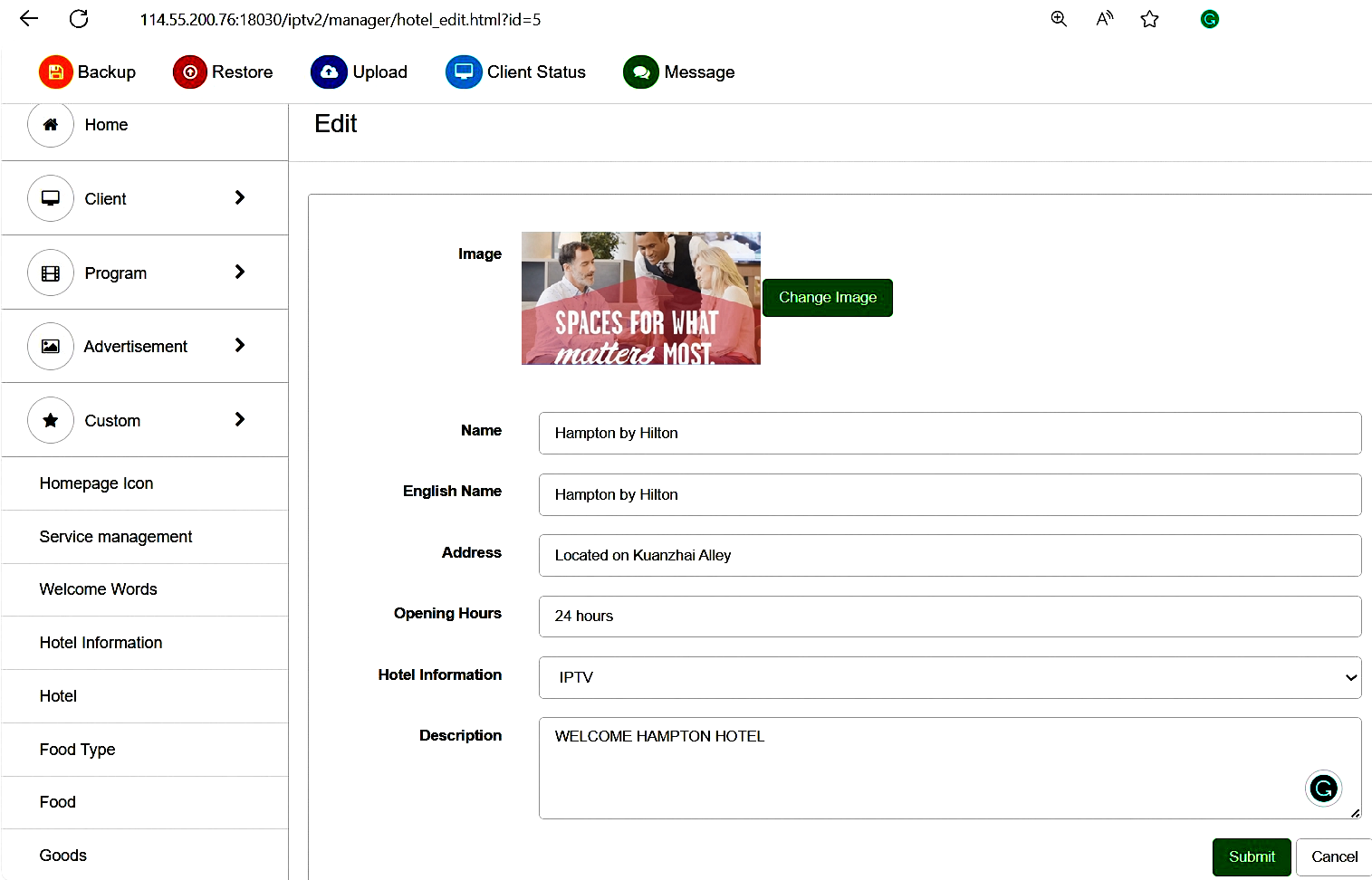 Upload Hotel Logo through web management

Turn to Home page 2: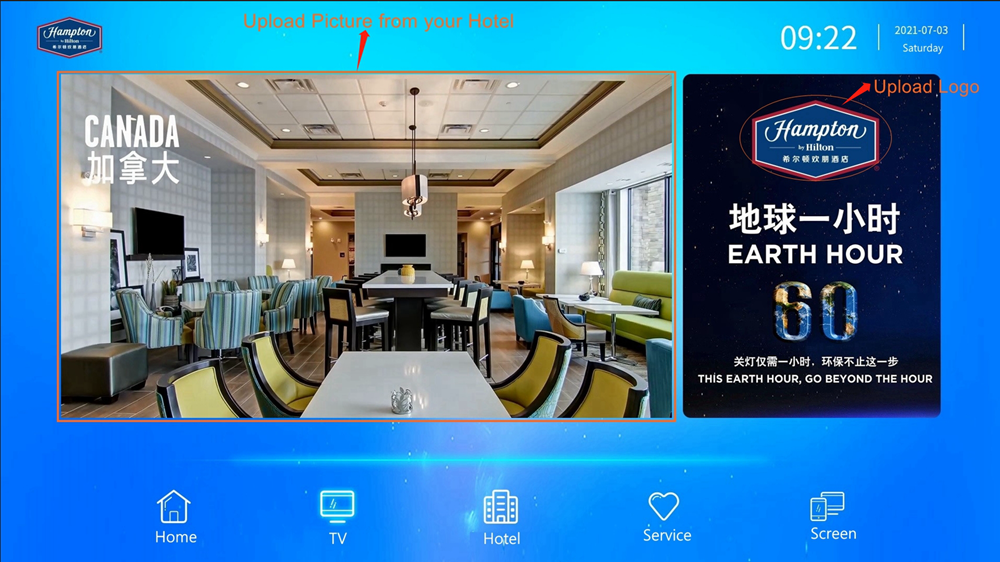 Enter the "Hotel" page in the web management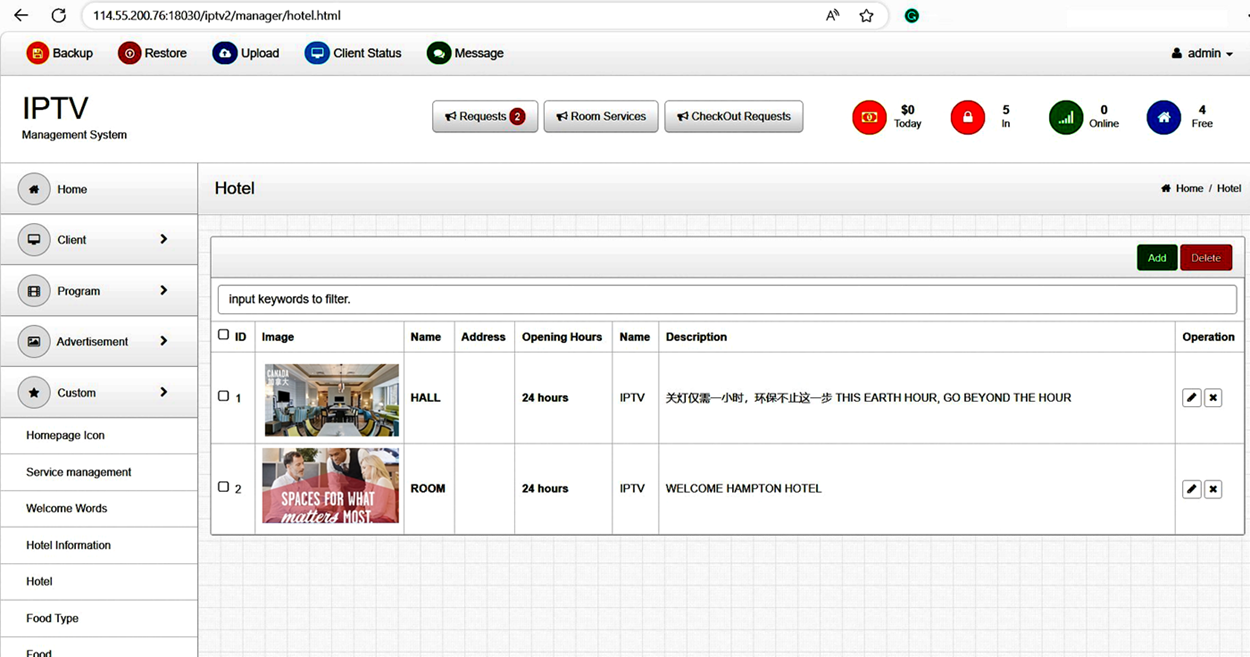 Choose the page you want to edit as below: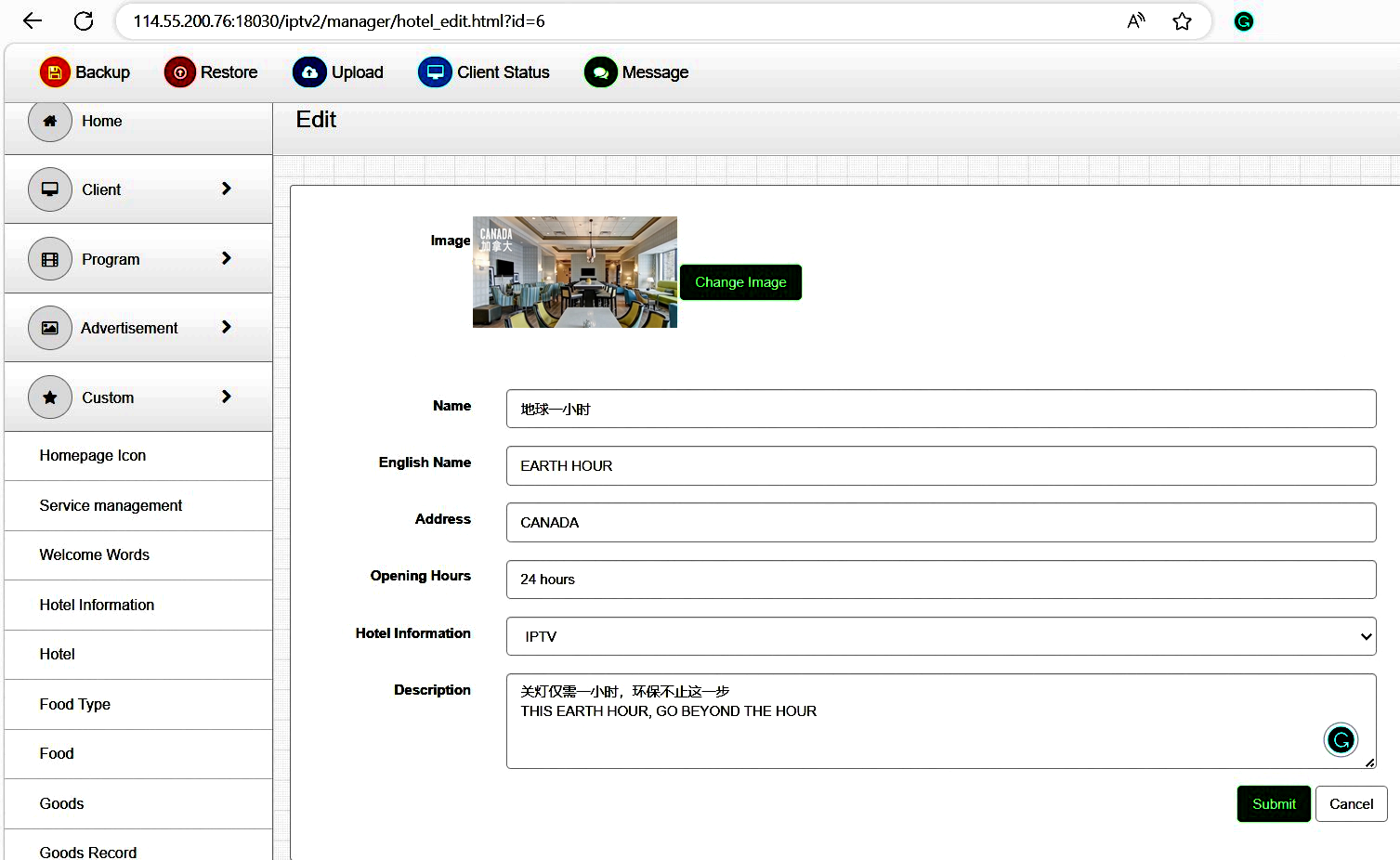 Case Presentation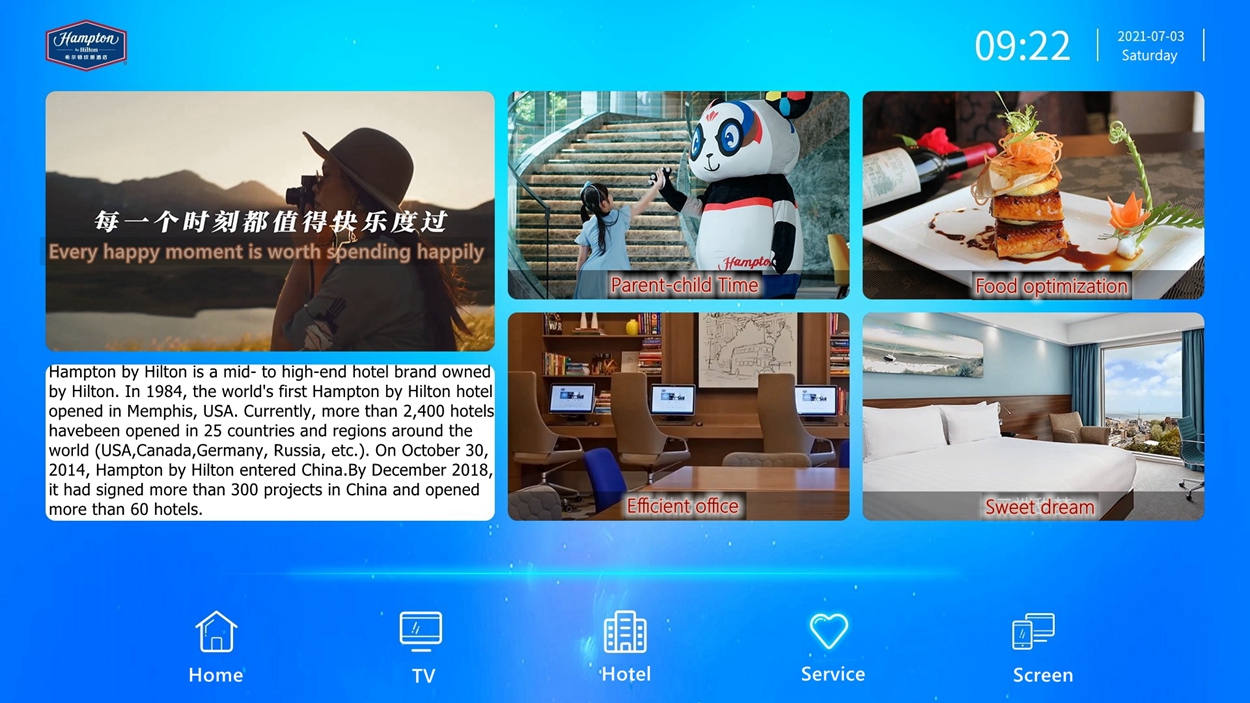 B.Custom "Welcome Guests"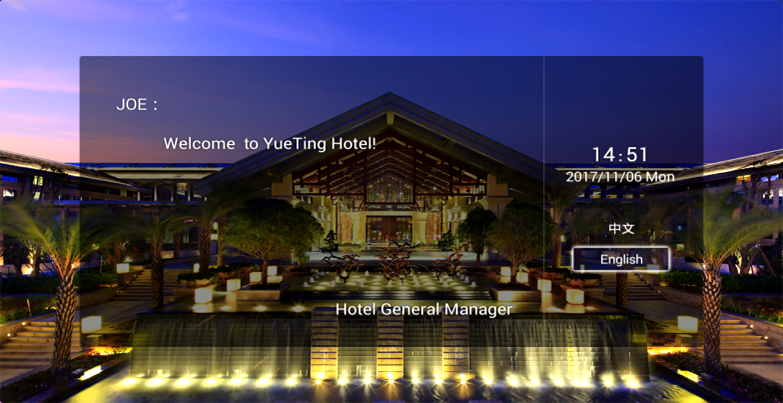 Edit welcome words on web management as below:
Case Presentation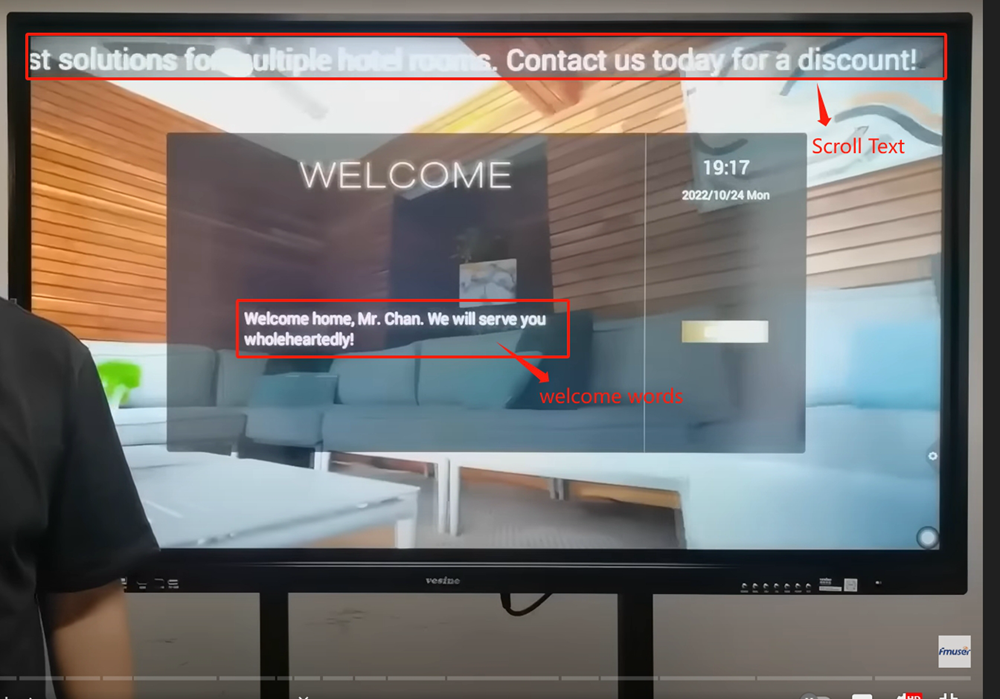 Advertising
4. IPTV-integrated PMS
4.1 What is the benefit of integrated PMS with IPTV?
Integrating hotel IPTV solutions with various hotel services can greatly enhance the guest experience. This seamless integration allows guests to enjoy a range of features through their in-room television or even their own mobile devices.
a.Provide room service options directly through the IPTV system
Guests can conveniently browse menus, place orders, and even track the status of their orders, all without the need to make a phone call. This experience can be further personalized by offering special diets and preferences tailored to individual guests.
b. Marketing and promotions
Hotels can showcase their latest offers, discounts, and special packages directly through the television interface or even push notifications to guests' mobile devices. This targeted approach to advertising can lead to higher engagement and conversion rates.
c.Providing hotel information
Guests can easily access vital information such as hotel amenities, services, and local attractions through the IPTV interface. Incorporating multimedia content like images and videos can make the information more visually appealing and engaging for guests.
In conclusion, integrating hotel IPTV solutions with various hotel services offers numerous benefits, resulting in an enhanced guest experience.
By combining room service, marketing, promotions, and hotel information within the IPTV system, hotels can cater to guests' needs in a more personalized and convenient manner.
4.2 How to integrate IPTV with hotel PMS?
This integration work requires communication between PMS engineers and IPTV engineers, to connect the integrated interface of one party to the software of the other party.
This is an integrated interface document provided.

Taking Opera as an example, the integration cost is about 2000-3000.