Product Overview
STMQ-800 DVB S/S2 to RF coax modulator is a professional high-integration device that includes tuner demodulation, multiplexing, and modulation. It supports 4/8/12/16/20/24 tuner input(support different types of tuner DVB S2/DVB C/DVB T/ATSC/DTMBT/ISDBT as input), 1000M IP input,4 RF(8RF) output(ATSC, ISDBT, DVB C/ T), 5 MPTS output, and SPTS output. In conclusion, its highly integrated and cost-effective design makes the device widely used in varieties of digital distribution systems such as cable TV digital head-end, digital TV broadcasting, etc.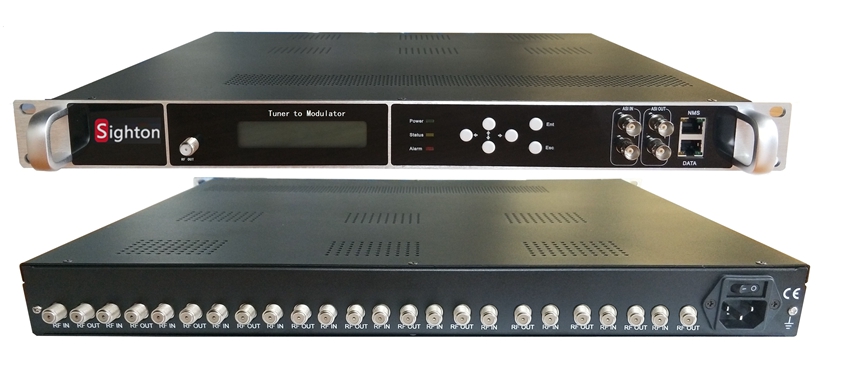 Key Features
1. 4/8/12/16/20/24 tuner input(DVB S2/DVB C/DVB T/ATSC/ISDBT/DTMBT)
2. 1000M IP output over UDP and RTP protocol(MPTS and SPTS)
3. Support different types of tuner(DVB S2,DVB C, DVB T, ATSC, DTMBT, ISDBT, etc.)input, or mixed-use ( e.g., 4dvb t and 4 ATSC input at the same time, making up 8 tuners as input )
4. 4 RF (8RF) output (ATSC、ISDBT、DTMBT、DVB-C/-T)
5. 2 ASI inputs
6. 2 ASI Independent output (optional) as a copy of 5MPTS
7. Support "Null PKT Filter" function
8. Support PID Remapping/ PCR accurate adjusting
9. PID pass
10. LCD、key function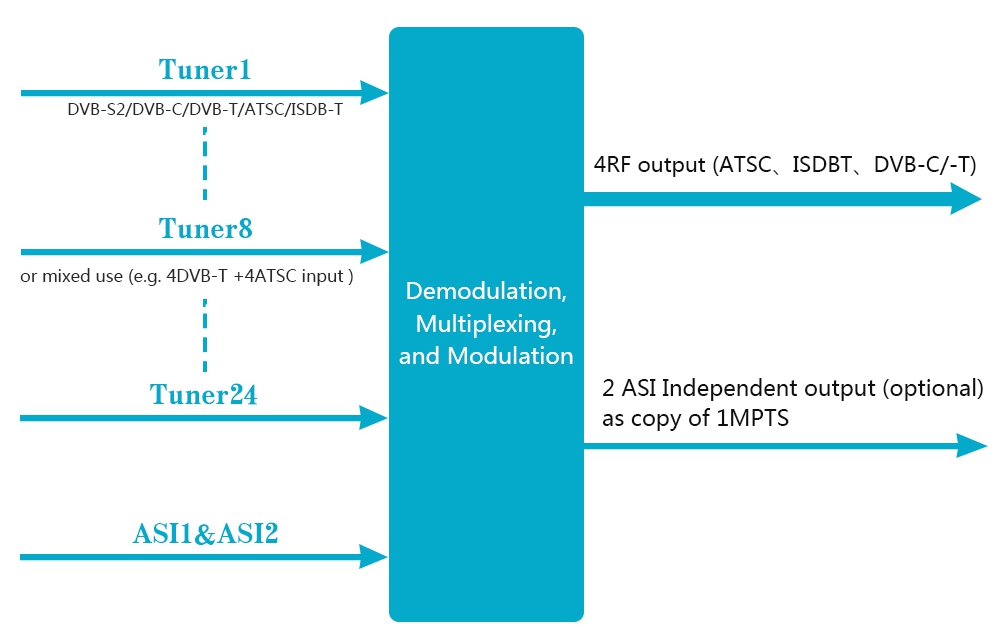 Technical Specification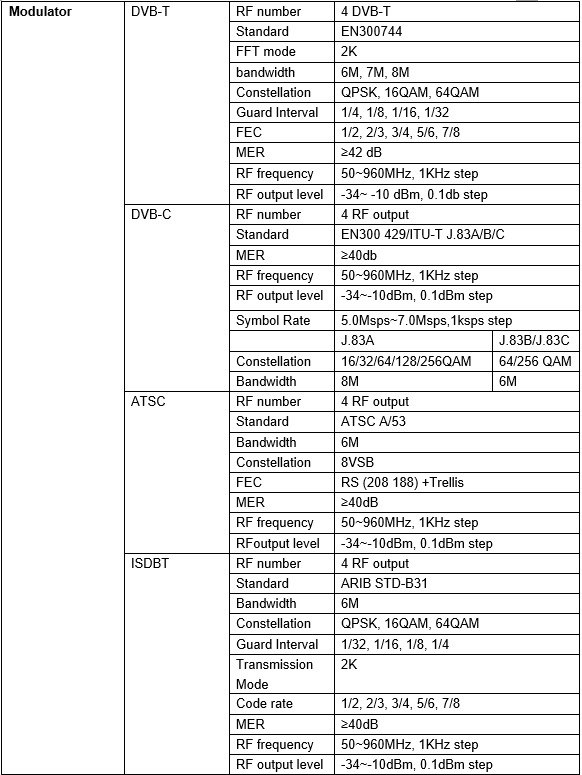 How to buy Tunner to RF modulator?
Step 1: where is your signal source from?
From satellite or cable, wireless system? It determined which standard input tuners you need.
DVB S/S2 tuners are used for receiving satellite signals
DVB T/T2 tuners are used for receiving wireless system signals.
And DVB-C(ATSC-T/ISDB-T) tuners are used for receiving cable signals.
Step 2: how many tuners input do you need? you can 4/8/12/16/20/24. As 4tuner is in one module.
Step 3: How many RF carries output do you need? 4RF or 8RF?
It depends on how many channels are there, what bitrate for each channel, and how many bitrates the specific modulation standard output can carry.
If you don,t know how to calculate them, please let us do it for you.
Notes: if you want to use 2 kinds of tuner as input, it also supports mix.