Outline
STR-604K HDMI 4K IP encoder is a professional 4K high-definition audio and video encoding product. These video encoder support 1 channel (4channels) of 4K 60 HDMI audio and video input, encoding and outputting dual-stream H.265/H.264 format and audio MP3/AAC format to IP network for live stream. The coding rate is adjustable, and the picture quality can be controlled. The IPTV encoders output high quality streams. The IPTV streaming support HTTP/RTSP/RTMP/UDP RTP and other protocol transmissions. The stream encoder also supports true 4K@60 resolution. Compared with the software encoder, the hardware encoder is providing more steady and higher quality video for the live streaming platform.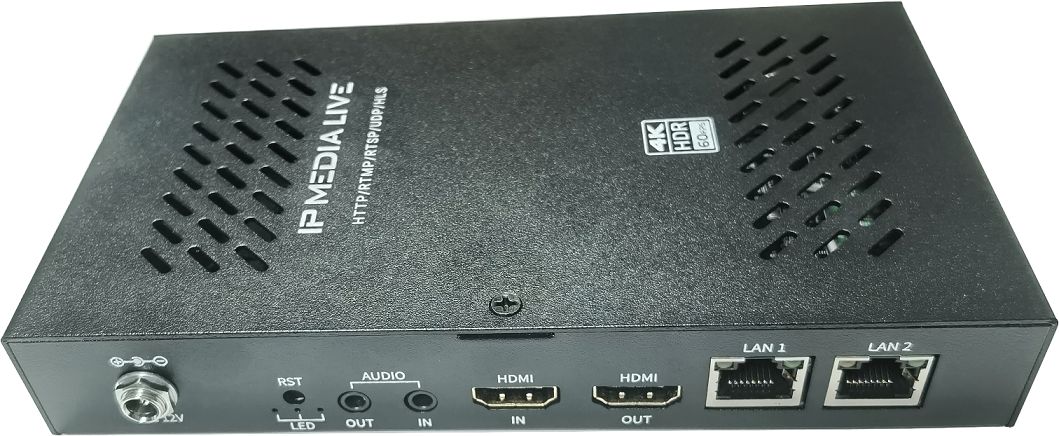 Features
Embedded hardware coding

Resolution support 4096*2160/3840*2160/2560*1440/1920x1080p/1280x720p and other resolutions

Encoding standard H265MP LEVEL 5.0 encoding, H264 HP/MP/BP LEVEL 5.1 encoding

The network interface adopts 1000M full-duplex mode

1 channel HDMI input, 1 channel HDMI output, audio input and output support audio gain

Support RTSP/RTMP/HTTP/RTP/UDP/SRT/unicast, multicast and other protocols (RTMP supports adding user and password function), support DHCP protocol, ONVIF protocol

Compatible with Wowza/FMS/RED5 and other streaming media servers, and cooperating with streaming media servers to push DC to realize live video

Supports multi-protocol and multi-stream functions such as main and sub-stream. The main and sub-streams can be selected from 264 and 265 respectively. The main and sub-streams can be transmitted by different network protocols.

Rate control CBR/VBR 16KBIT/S~200MBIT/S

Support streaming resolution custom output settings

Transmission method: TCP, UDP, dual Gigabit network card (RJ45 duplex network port)

Support code stream to add watermark function (OSD), XY axis, the font can be set

Support WEB access to Chinese and English web pages, change passwords, and support WAN remote management (WEB)

Support DHCP to obtain IP automatically, support one-key restoration, version upgrade, and remote maintenance

Support left and right channels

Support one-key restore the default configuration

Low-power design, support set-top box decoding
Technical Parameters
Devices-Recommend
Compare with 4k-30p encoder(4/8/12 channels hdmi input)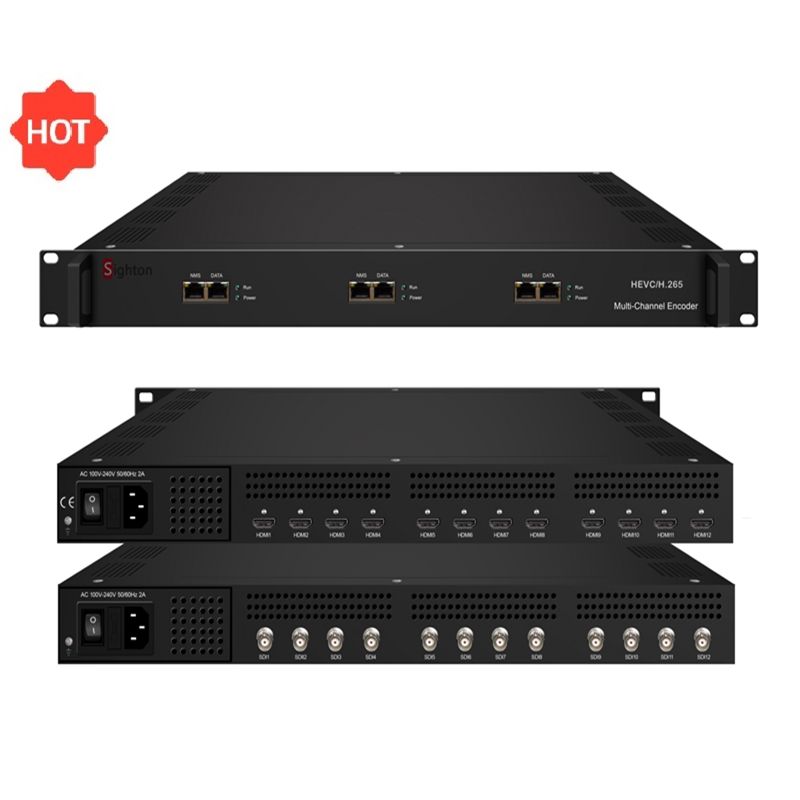 What is different Between 4K and 1080P?
1. Compared with 1080P HD, 4K can obviously bring a more delicate picture. Under the international film DCI standard, the full-color gamut 4K TV has a color gamut of up to 107%, which effectively compensates for defects such as distortion and color cast caused by low color gamut, making the colors more vivid. More in line with human eye health vision preference.
2. Resolutions
1080P is 1920x1080P; while the resolution of 4K TV is 4 times that of ordinary 1080P. The physical resolution of 4K TV can reach 3840x2160.
3. Different clarity
Because the resolution of 4K TV is higher than that of 1080P, the corresponding 4K can bring clearer and more delicate pictures than 1080P high-definition.
1080p is a video display format, the foreign language letter P means progressive scan, and it is the format standard for the highest level of high-definition digital television developed by the American Society of Motion Picture and Television Engineers. It divides the difference of digital high-definition signal digital TV scan lines into 1080P, 1080I, and 720P. It is a display format that achieves a resolution of 1920×1080 under progressive scanning. It is the perfect fusion of digital TV and computer technology.
4K resolution is an ultra-high-definition resolution. At this resolution, viewers will be able to see every detail in the picture, every close-up. If the cinema adopts 4096×2160 resolution, no matter where in the cinema, the audience can clearly see every detail of the picture.