Product Overview
STR-538 HDMI encoder IPTV is a professional high-definition audio and video encoding product. It supports 8-channel HD HDMI input, 8-channel audio input, and output dual streams with H.264 AVC format, Audio: MP3, AAC, G.711 format.
The IPTV encoder also has dual ethernet ports: a data port- WAN, and a network management port- LAN. The encoding bit rate of HDMI video encoders is adjustable, and the picture quality from HDMI signal video sources can be controlled.
The hardware encoder streaming protocols include HTTP / RTSP / RTP / RTMP / UDP and other protocol transmissions. we can get video streaming from it, like live streaming& RTMP streaming, and widely used in IP networks and the internet.
The HDMI over IP encoder is easy to use, there are no hardware compatibility issues.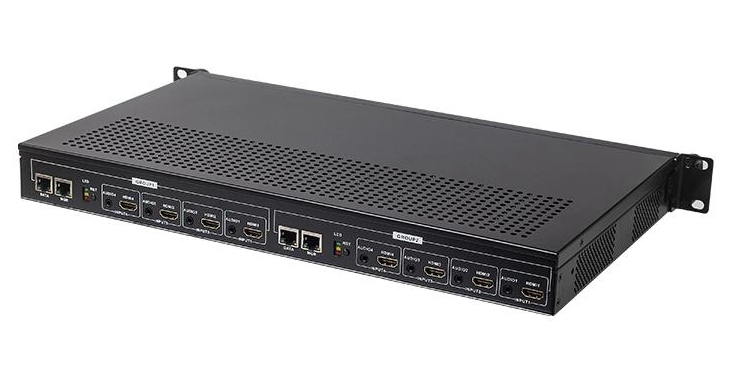 Key Features
1. Resolution:1920x1080p/1920x1080i/1280x720p/720*576i/720*576p/640*480i (customization available)
2. Support RTSP/ TCP/ RTMP/ HTTP/ ONVIF/ UDP/HLS unicast and multicast protocol
3. Support the Main TS stream and the sub-TS stream use in different network protocols for transmission
4. Encoding level: 1, 2, 3, 4, and 5 (the higher the level, the larger of the code flow fluctuation ratio )
5. Coding Standard: Baseline profile/ main profile/high profile,.Audio: MP3, AAC, G.711, sampling rate: 32000,44100,48000 etc, encoded audio bit rate: 48K,64K, 96K, 128K, 160K, 192K, 256K
6. Video bitrate Control: CBR / VBR 16KBIT / S ~ 12MBIT / S
7. Video packaging: FFMPEG
8. Transmission: TCP, UDP, 100M for configuration/ 1000M for transmission(RJ45 Duplex network port)
9. Support WEB access in Chinese/ English, passwords change, WAN remote management (WEB)
10. Support Text/ image OSD, and image superimposing.
11. Supports automatically obtaining IP (DHCP), supports One-key recovery, upgrade, and remote maintenance.
12. Support build-in or external audio input, support left and right sound channel, Support audio gain, turn volume individually.
13. Support encoding without video signal;
14. Take effect immediately when applied the settings, don't need to restart.
15. Support one-key recovery to default setting.
Specification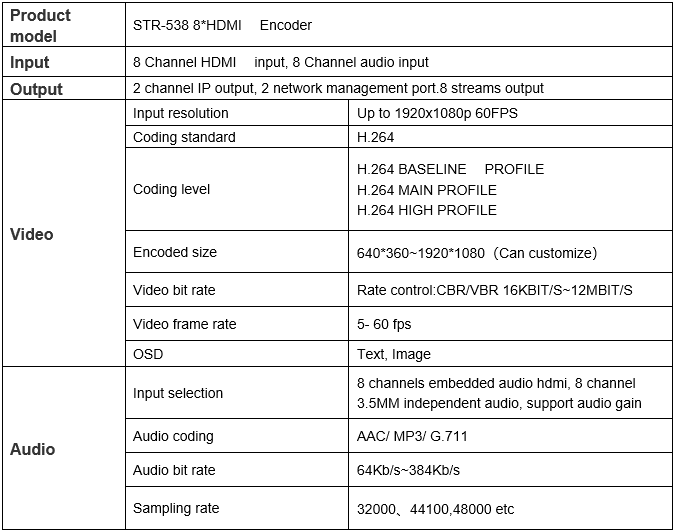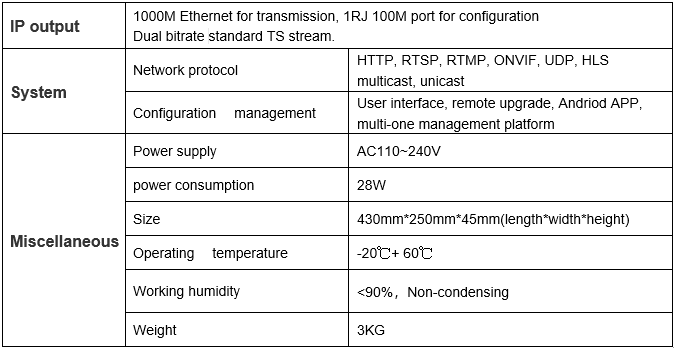 Devices-Recommend
| | |
| --- | --- |
| If you need ASI as output: | Higher Resolution 4k-60p encoder: |
| | |