Outline
STHM-3364 MPEG2 & MPEG4 HD Modulator integrates encoding (MPEG-2, MPEG-4/AVC H.264) and modulation with high-performance low delay and up to 1080p Resolution. It provides the flexibility needed to deliver content at different interface types. It converts HDMI/YPbPr /CVBS (Pr in) signals etc to digital RF output. To meet customers' various requirements, STHM-3364 is also equipped with 1 ASI input, and output with 2 ASI ports and 1 IP port. The signals source could be from satellite receivers, closed-circuit television cameras, Blu-ray players, an antenna, etc.
It is an ideal product to create your own CATV channels over existing coaxial cabling with an unlimited number of displays over any distance. All digital modulators are capable of modulating various codecs in MPEG2 AAC, MPEG 4 and AC3 Audio.
VCT and independent encoders per input help manage and create a custom RF CATV channel lineup fast and easily. Its output signals are to be received by TVs, STB and etc with the corresponding standard. These High Definition Digital Cable Modulators encode in multiple different modulation standards; including DVB-C QAM, ATSC, DVB-T, and ISDB-T.
STHM-3364 series products are wildly used in public places such as metro, market halls, theatres, hotels, restaurants and etc for advertising, monitoring, training, and educating in companies, schools, campuses, hospitals… It's a good choice to offer HD channels and more.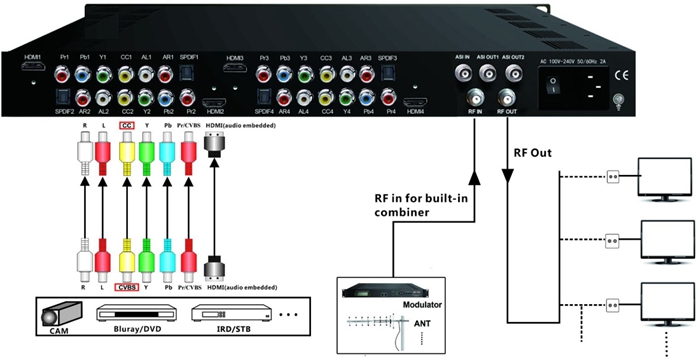 Key Features

MPEG2 HD & MPEG4 AVC H.264 FULL HD video encoding
DD AC3 2.0(Optional), MPEG4-AAC, MPEG2-AAC, MPEG1 Layer II audio encoding
Support DD AC3 (2.0/5.1/7.1) passthrough (for HDMI interface only)
4* HDMI Input or 4YPbPr/CVBS (Pr in) audio, video signals channels in
1*ASI in for re-mux; 1*RF in for RF mix
2*DVB-T RF out (4* DVB-C,2*ISDB-T,4*ATSC RF out optional); ASI out; IP out
Support EAS control for DVB-C and ATSC RF out--Optional
Support CC (Closed Caption) EIA608, (from CVBS source only)
Support Low Delay
LCN (Logical Channel Number) support
VCT (Virtual Channel Table) support— for DVB-C and ATSC
Excellent modulation quality
LCD display, Remote control and firmware
Web-based NMS management and front panel; Updates via web
Principle Chart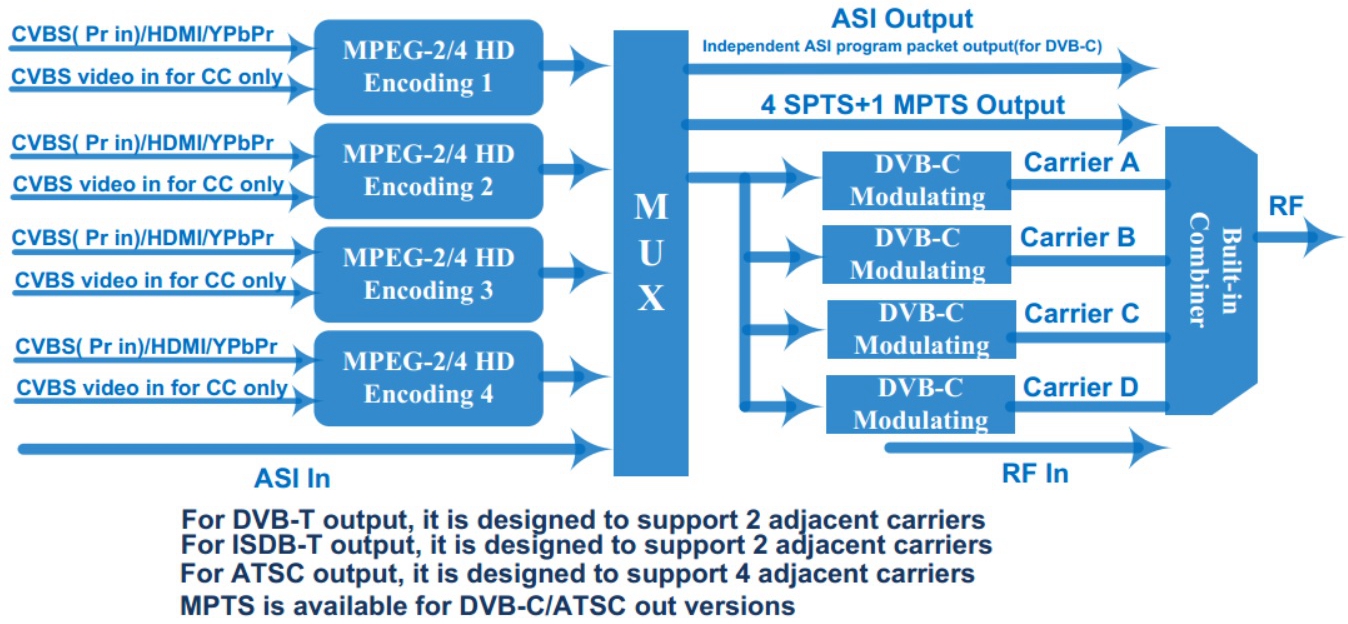 Specifications