Outline
STPM-32 IP QAM modulator is a cost-effective device that supports 256 IP input through the GE port and 32 non-adjacent carriers (50MHz~960MHz) output through the RF output interface. The QAM modulator is also characterized by a high integrated level, high performance, and low cost. This is very adaptable to the new generation DTV broadcasting system.
Features
* 3 GE ports (max 1024 IP in):
Data1 & Data2 bi-directional ports, max 512 IP in, 32 IP out
Data port (located on front panel), max 128 IP in
* Max 840Mbps for each GE input
* Supports accurate PCR adjusting/CA filtering, PID remapping and PSI/SI editing
* Supports up to 256 PIDS remapping per channel
* Support 32 IP output through Data1 & Data2 over UDP/RTP/RTSP
* 32 non-adjacent QAM carriers output, compliant to DVB-C (EN 300 429) and ITU-T J.83 A/B
* Supports RS (204,188) encoding
* Support Web-based Network management
Principle Chart

Carrier Setting Illustration

*System Connection Sample (IP Based)
Technical Parameter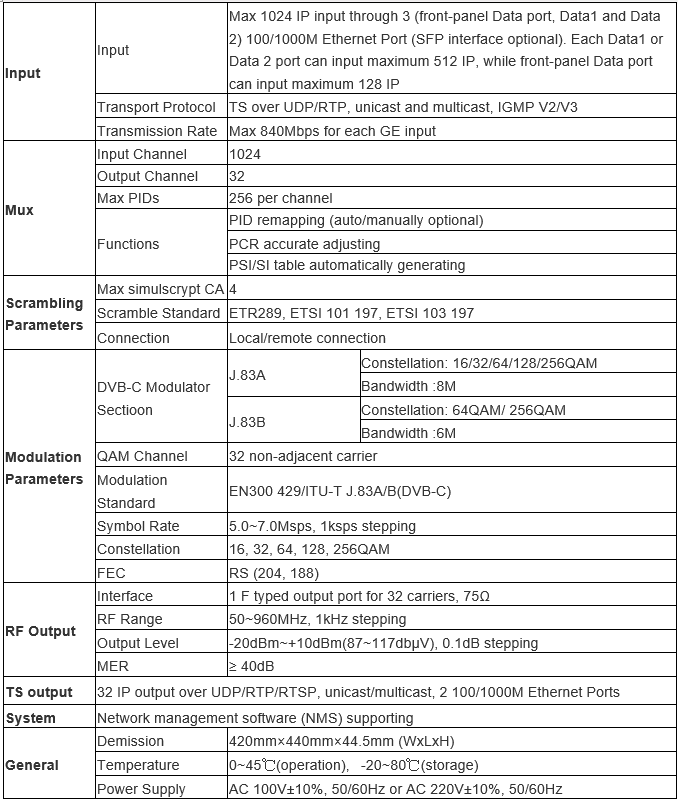 How to select the output bandwidth of one modulator?
Take a client's TV listings as an example:
John told us "RF carrier output needs to be configurable between DVB-C Frequency Range, preferred Frequency Range is 194 ~ 650 MHz.", and give us his programs table: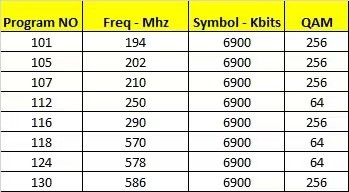 1. From the table, we know we need a frequency range is:586-194=392MHz
2. We know the QAM RF output range is: 50~960MHz, while for one common modulator the max output is 192MHz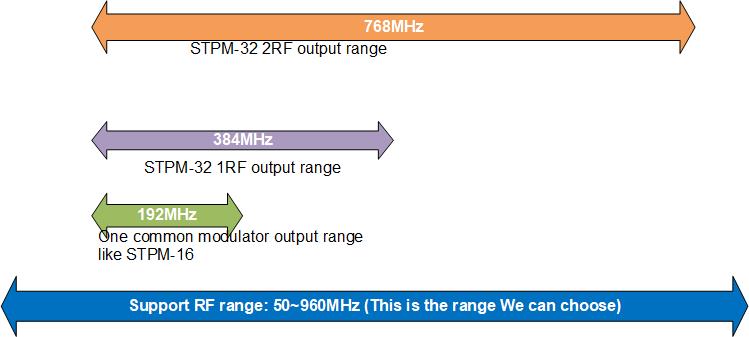 STPM-32 RF*2 output model is suitable.