Outline
S6236-EM RF HDMI modulator is a professional high-integration device that includes encoding (and de-modulation), multiplexing, and modulation functions in one case.
It supports 8/16/24 HDMI (or HDMI plus DVB-S2/S2X tuner) inputs and its modular design (maximum 24 HDMI inputs) and flexible configuration make it scalable and very reliable while providing high performance. Besides, the RF HDMI moduator also has 1 ASI input, 1 USB player input, and 128 IP inputs via the GE port. The HDMI video source could be from any STB, satellite receiver, closed-circuit television, camera, and antenna etc.
RF HDMI moduattor output by multiple DVB-T (or QAM ATSC/ISDB-T optional) carrier channels. It also supports MPTS output as a mirror of carriers through the GE port and 1 ASI out as a mirror of one of the carriers. RF output signal is designed to work with any TV or STB. Because it comes standard with every RF modulation standard built-in, this device can work anywhere in the world in a plug-and-play format
Just 2 or 3 units can be combined to create a headend that supports over 100 channels on the RF coaxial cable network.
This full-function device makes it ideal for a small CATV headend system, and it's a smart choice for hotel TV systems, entertainment systems in sports bars, hospitals, and apartments…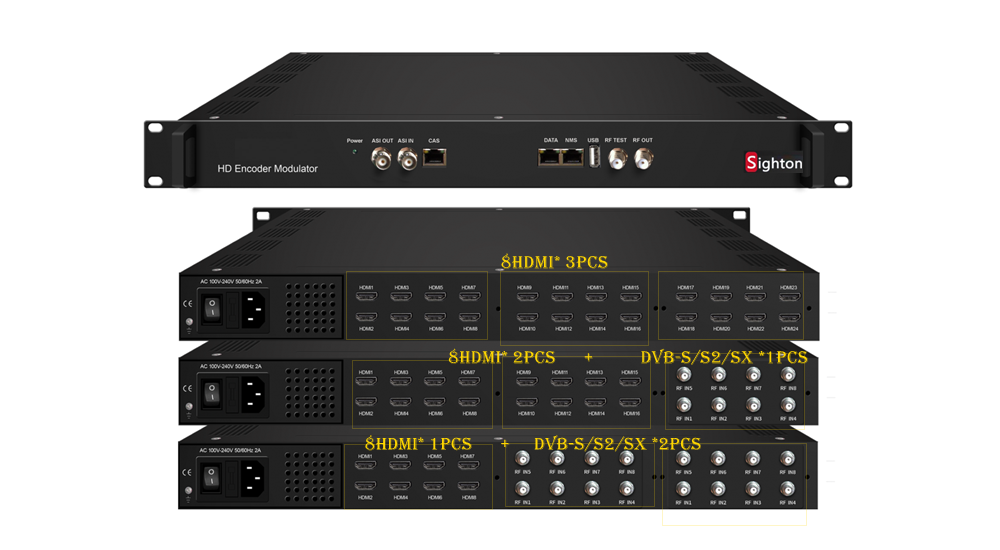 Features
8/16/24 HDMI (or HDMI plus DVB-S2/S2X tuner) inputs, MPEG-4 AVC/H.264 Video encoding
1 ASI input for re-mux
1 USB Player (Insert the USB Flash drive with "xxx.ts" videos in S6236-EM and playback the content in an easy way; file system FAT 32)
128 IP input over UDP and RTP via GE port
Each carrier out channel process a maximum 32 IP from the GE port (UDP&RTP protocol)
MPEG1 Layer II, LC-AAC, and HE-AAC Audio encoding, AC3 Pass-Through and audio gain adjustment
Support 12ch DVB-C RF out (8ch/16ch DVB-T, 8ch ATSC, or 6ch/16ch ISDB-T out for option, as per order)
Support 1 ASI out as mirror of one of RF output carriers---Optional
Support MPTS IP output over UDP, RTP/RTSP
Support LOGO, Caption, and QR code insertion (Language Supported: 中文, English, العربية, ไทย, हिन्दी, русский, اردو, for more languages please consult us…)
Support PID remapping/ accurate PCR adjusting/PSI/SI editing and inserting
Control via web management, and easy updates via web
Principle Chart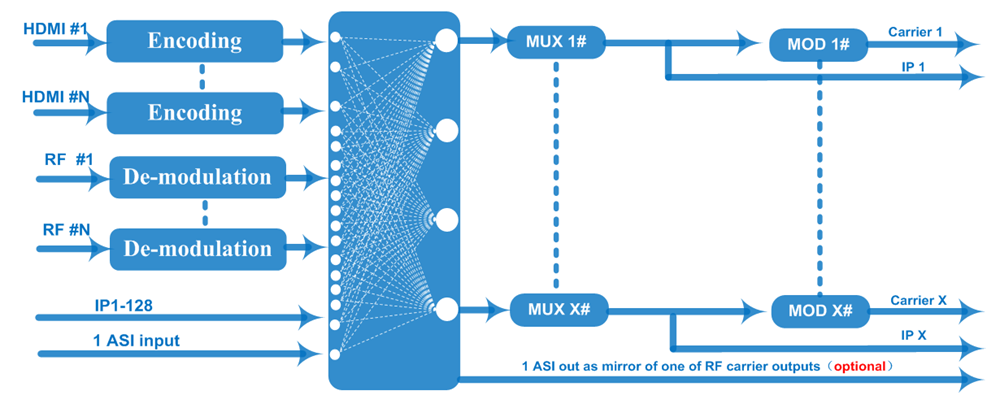 Technical Parameters