Product Overview
ST3380-A dvb s2 to ip ( dvb to ip gateway) is a professional high-integration device that includes tuner dvb s2 demodulation(and other tuners dvb s, dvb t2, dvb t, atsc, isdb t), multiplexing, and encoding.
The ip gateway supports 4/8/12/16/20/24 tuner input(support different types of tuner ( dvb s2, dvb s, dvb t2, dvb t, atsc, isdb t ) input), transport stream 256 SPTS tv channels output with1000M IP output and1 MPTS output.
In conclusion, its highly integrated and cost-effective design makes the device widely used in varieties of digital distribution systems such as cable TV digital head-end, digital TV broadcasting, ip network etc.

Key Features

1. 4/8/12/16/20/24 tuner(DVB-S/S2/DVB-C/ATSC/ISDBT/DVB-T/T2) as inputs
2. supports 1000M IP output over UDP and RTP protocol(MPTS and SPTS)
3. Support different types of tuner ( DVB-S2/DVB-C/DVB-T/ATSC/DTMBT/ISDBT) input, or mixed use ( e.g., 4 dvb - t inputs and 4 ATSC inputs at the same time, making up 8 tuners - input)
4. 2 ASI inputs
5. 2 ASI Independent output (optional) as copy of 1MPTS
6. Support "Null PKT Filter" function
7. Support PID Remapping/ PCR accurate adjusting
8. PID pass
9. LCD, key function, control via web management, and easy updates via web
Principle Chart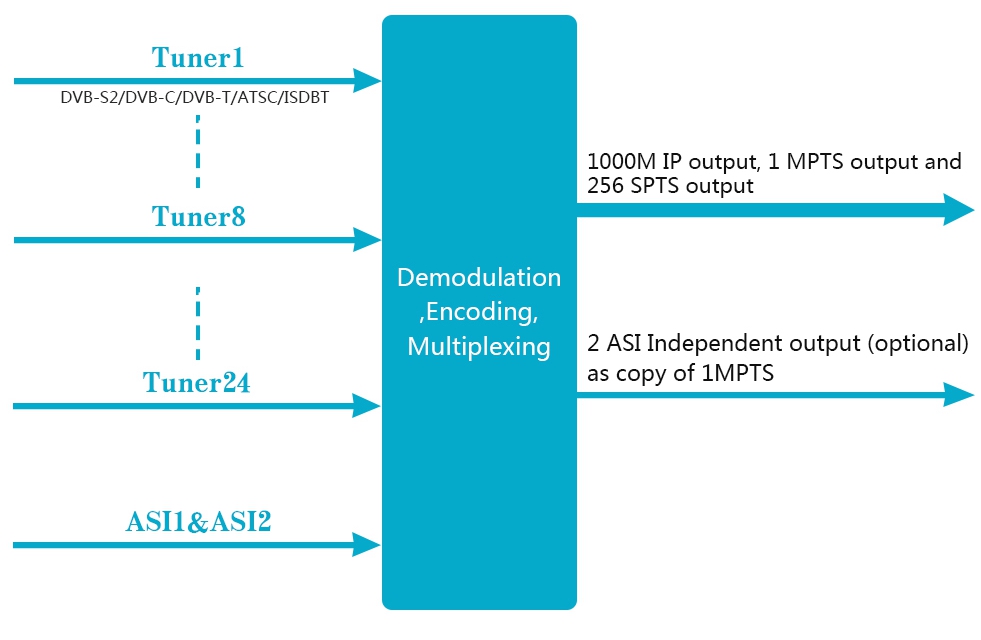 Technical Specification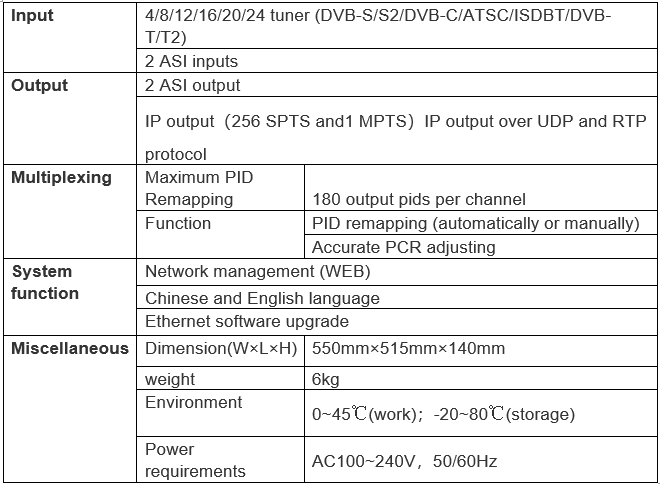 Devices-Recommend
| | |
| --- | --- |
| If programs are encrypted | Not only need FTA to IP but also need RF as Output: |
| | |