Outline
STHD-4515D streaming encoder is a very professional HD video encoder. It receives HDMI signal source or HD-SDI sources as input and supports HD audio & video encoding mpeg2 & h 264 and MPEG 1 Audio layer 2, LC‐AAC, HE‐AAC, and DD AC3 audio encoding. STHD-4515D output through ASI and IP streaming in MPTS or SPTS.
The HDMI( SDI) streaming encoder adopts an inner drawer‐type structural design which greatly facilitates the change of encoding modules if needed.
The output ip of the hardware encoder is compatible with live streaming platform, and also work well with streaming software for live stream. STHD-4515D is also widely used for digital video broadcast, it can supply high quality video for broadcaster studio.
Features

* Dual power supply
* MPEG2 HD/SD & MPEG4 AVC/H.264 HD/SD video encoding
* MPEG1 Audio Layer 2, LC-AAC, HE-AAC and AC3 audio encoding
* Support dialog normalization (applicable for DD AC3)
* 4*HD-SDI or 4*HDMI input
* Support VBR/CBR rate control mode
* Support CC (closed caption) EIA 608 & EIA 708 for HD-SDI input
* Support Low Latency function
* Support PSI/SI editing and inserting
* Supports IP null packet filter
* ASI output, IP (MPTS & 4 SPTS) output over UDP, RTP
* LCD display, Remote control and firmware
* Web-based NMS management; Updates via web
Principle Chart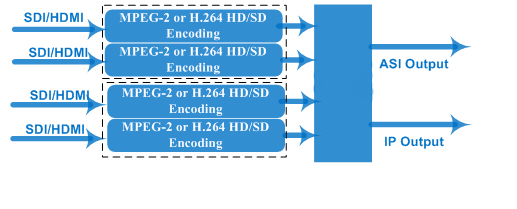 Technical Parameter