Outline
STHD-8522H 265 encoder is a professional high-end encoder for radio and television, supporting two optional encoding modes: h.265 and h.264. its chip can handle 4/8/12SDI channels or 4/8/12HDMI video as you need. It supports multiple HD resolutions:1080P-50,1080P-25,1080P-30,1080P-60;1080I-50,1080I-60;720P-50,720P-60, max up to 4K 3840x2160P@30, and also supports some special request:1080P-29.97,1080P-59.94,720P-59.94.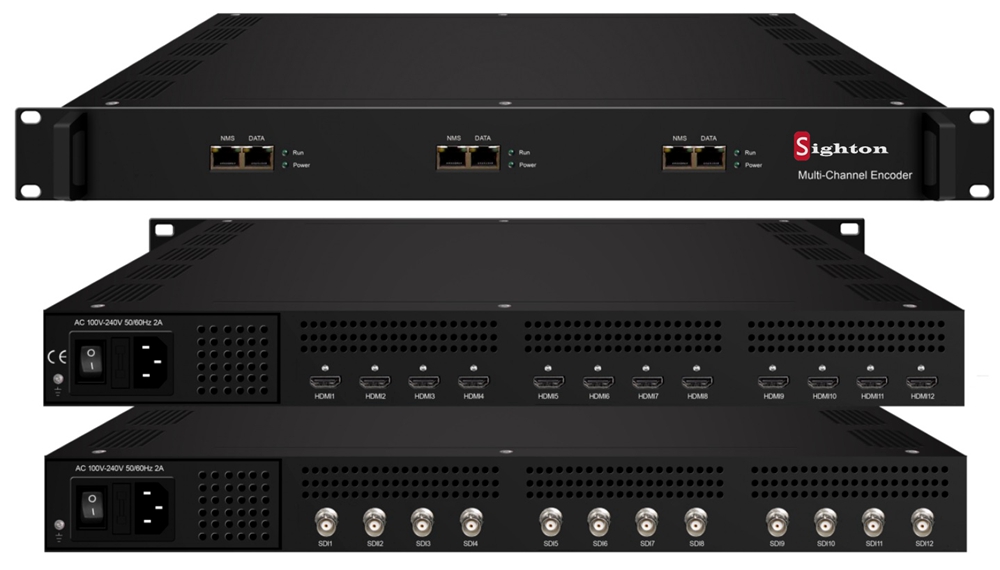 What distinguishes it from ordinary video encoders is that it saves 75% of bandwidth than other encoders because of its ultra-low bit rate after encoding and compression, While it provides higher-quality video output because of its advanced compression algorithm. This is a professional encoder ideal for broadcast television, IPTV, terrestrial wireless transmission systems, and satellite television systems.
Features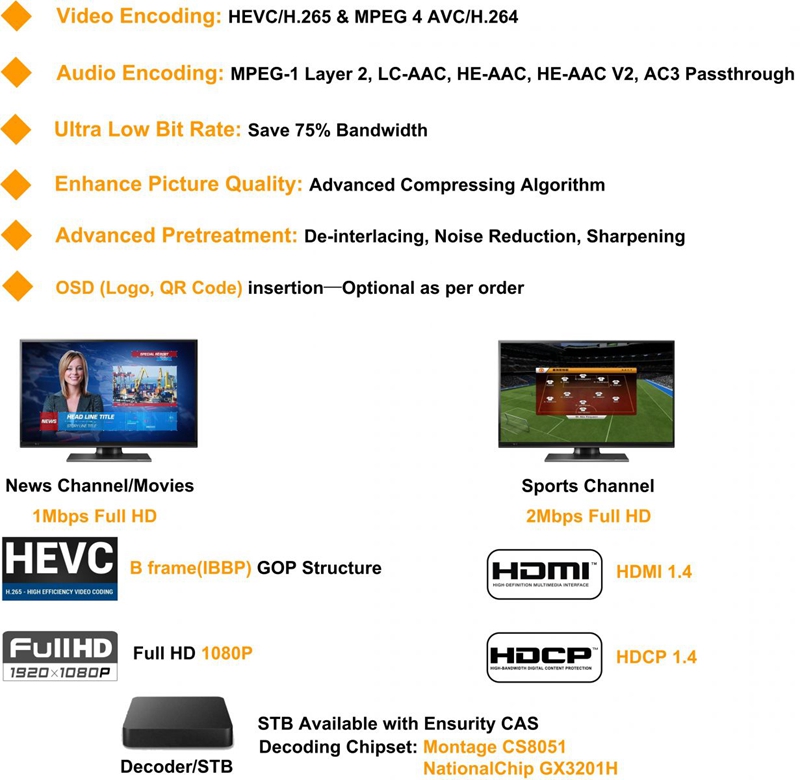 * 4/8/12× SDI(4/8/12× HDMI) input with 4/8/12 SPTS and 1 MPTS output through Data 1 and Data 2
* HEVC/H.265, MPEG4 AVC/H.264 video encoding format
* Support B frame GOP, high video compression ratio, and stable bit rate
* MPEG-1 Layer 2, LC-AAC, HE-AAC, HE-AAC V2, AC3 Passthrough audio encoding format.
* IP output over UDP and RTP/RTSP protocol
* Max Resolution to 3840×2160_30P 4K
* Support QR code, LOGO, closed caption insertion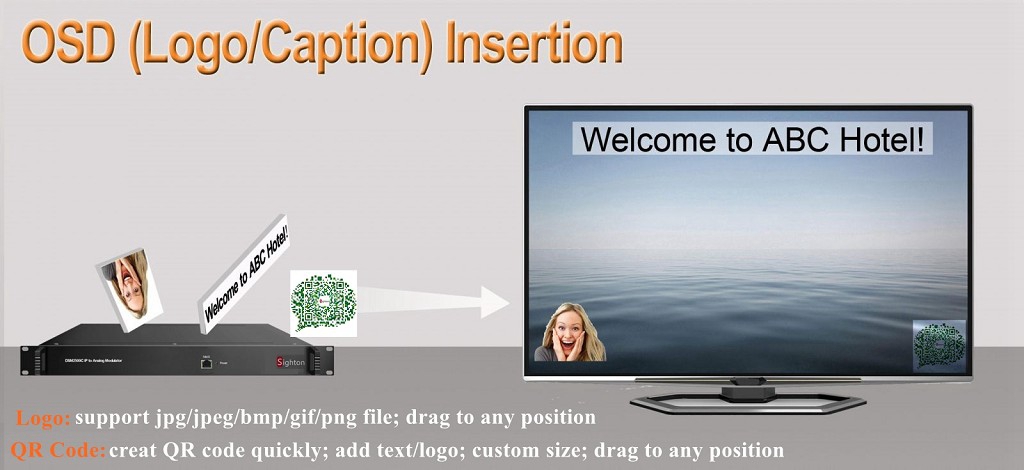 * Support the "Null PKT Filter" function
* Support PID Remapping/ PCR accurate adjusting
* Control via web management, and easy updates via web

Principle Chart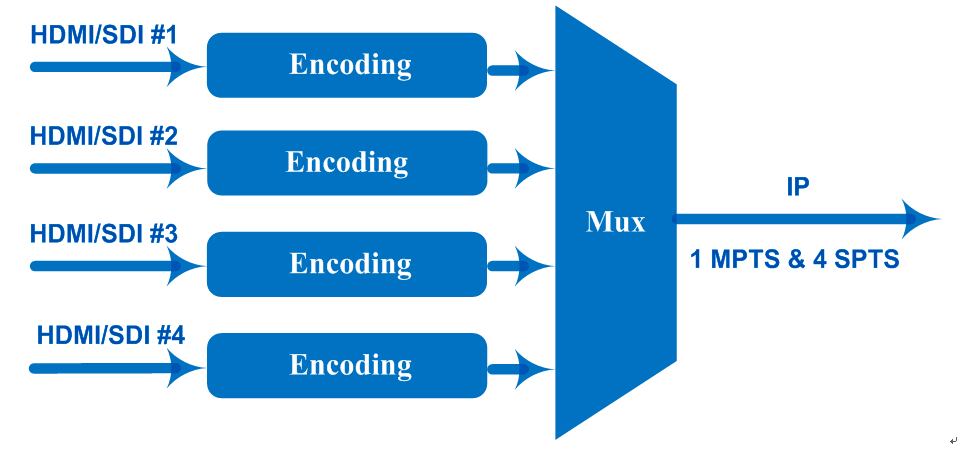 Technical Parameter

Order Guide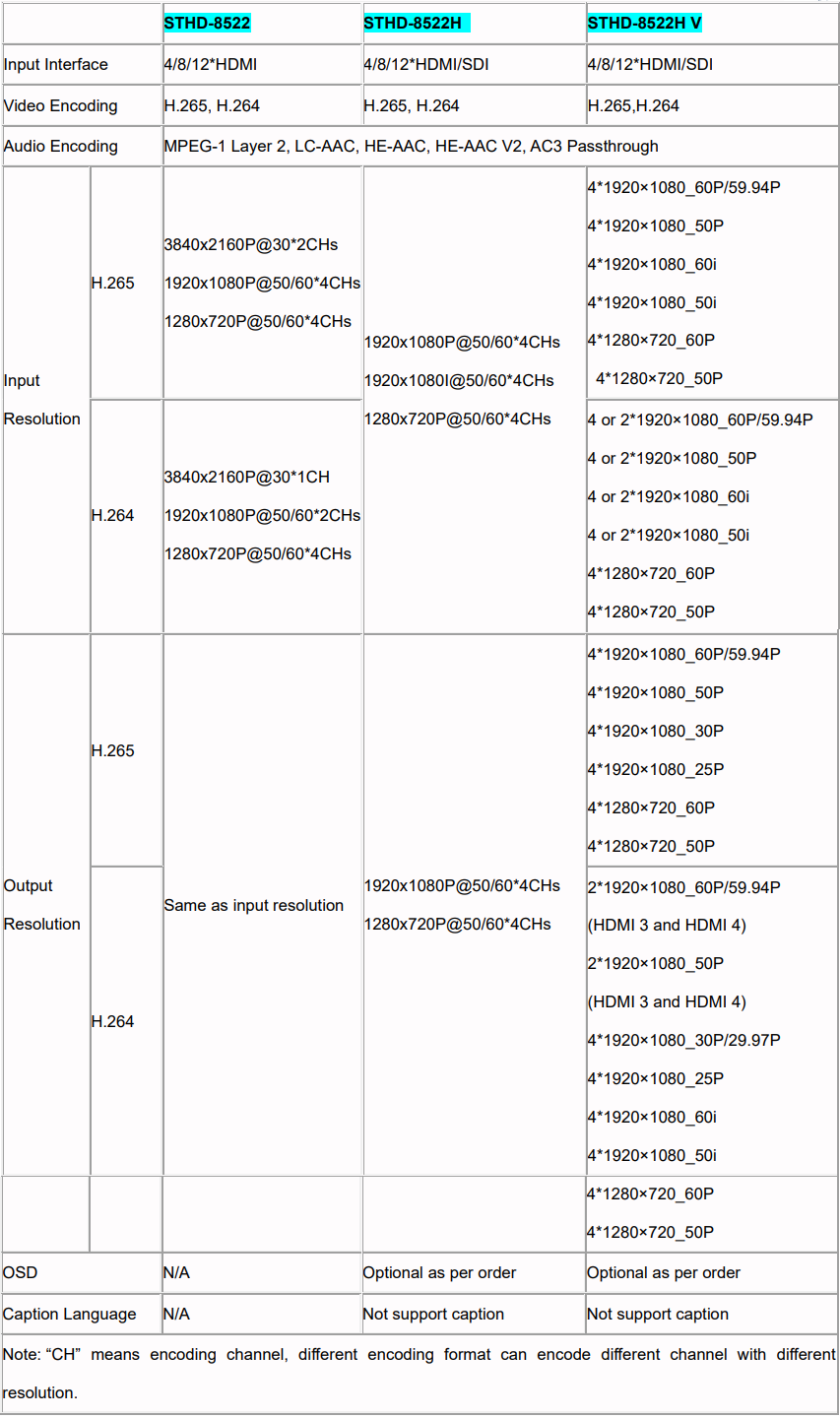 Devices-Recommend
| | |
| --- | --- |
| H.264 only with more cost-effective: | Compare with 4k-60p encoder: |
| | |
HEVC/H.265 encoder's advantages
1. Providing smooth TS for modulators
HEVC/H.265 encoder adopts Fujitsu chip which offers stable bitrate with lower fluctuation compared with other encoding chips, so it provides smooth TS for modulators. It is widely used in a variety of digital distribution systems such as CATV digital head-end, satellite, and terrestrial digital TV, etc.
2. Encoding with the highest compression format—B frame (IBBP)
What is B Frame?
There are 3 major picture types used in the different video algorithms, they are I, P and B.
They are different in the following characteristics:
I‑frames are the least compressible but don't require other video frames to decode.
P‑frames can use data from previous frames to decompress and are more compressible than I‑frames.
B‑frames can use both previous and forward frames for data reference to get the highest amount of data compression.

In one word, B frame is the highest compression format which makes it possible to process HD video at a low bit rate. HEVC/H.265 encoder is not able to save bandwidth unless it is with B frame. In encoder parameters, B frame is often described in GOP (Group of Pictures) structure, like "IBBP".
Click here to read more:

What is the best hardware encoder for H265?
Why is h 265 encodings so slow?