Outline
STHD-5518 8-in-1 MPEG-4 AVC H.264 HD IP Encoder is a professional HD audio & video encoding and multiplexing device with powerful functionality. It is equipped with 8 HDMI (4 HDMI) channels input or HD SDI input supporting MPEG4AVC/H.264 High Profile code format and 1 ASI input. For audio encoding, the screaming encoder support MPEG-1 layer2( AAC optional). The HD encoder can multiplex the ASI input TS with the 8 encoded SPTS to generate an MPTS output with the inserted PSI/SI information. It also supports 8SPTS IP video streaming output. The max resolution of the IP encoders is 1080P, and the main chip is Fujitsu. In conclusion, the Fujitsu h264 encoder is highly integrated and cost effective, and widely used in a variety of digital distribution systems such as CATV digital head-end, satellite, terrestrial digital TV, etc.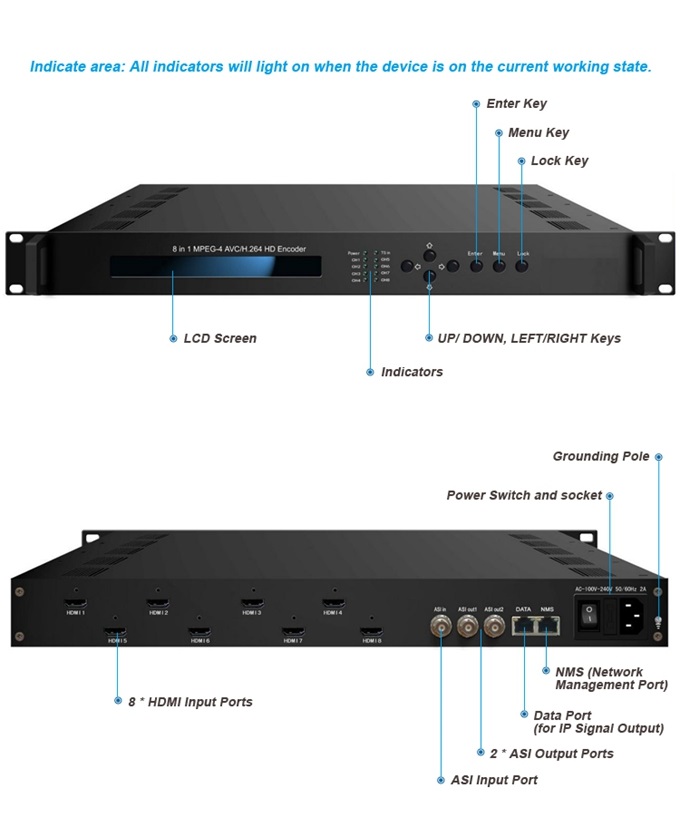 Principle Chart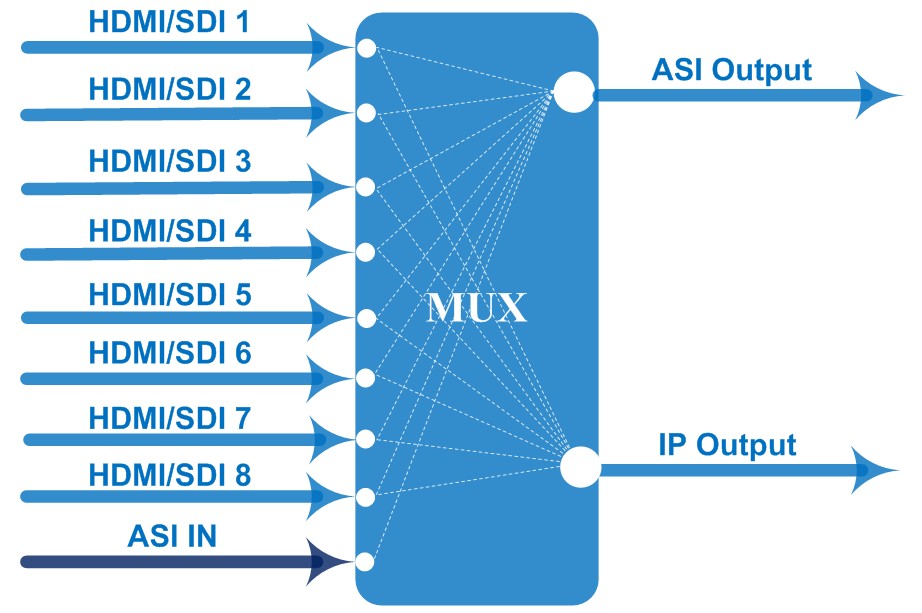 Features

•Support 8 HDMI channels input & 1 ASI Input
•Support H.264/AVC High Profile Level 4.0 video encoding
•Audio: MPEG1 Layer 2 (HE-AAC V2/AAC-LC optional)
•Support PSI/SI editing and inserting
•Support VBR/CBR video encoding
•Support MPTS or 8 SPTS UDP IP Output
•Support IP null packet filter
•Real-time output bit-rate monitoring
•LCD / keyboard and SNMP control
•Update device through NMS port
Technical Parameter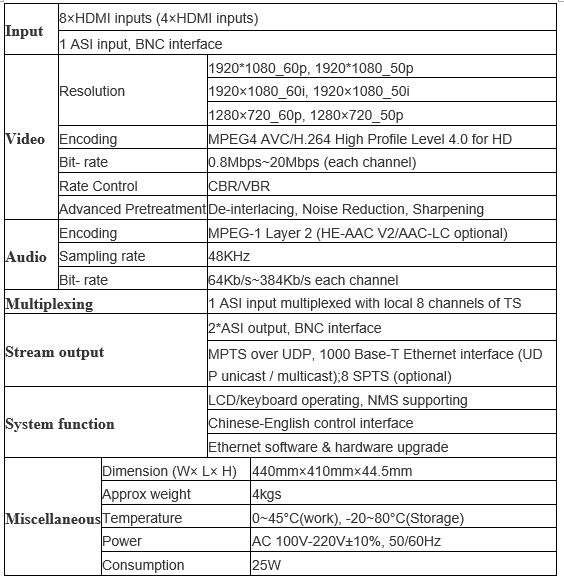 If you want to know---
How to transmit IP streaming in the same network segment?
make sure the mac address is not FFFFFFFFFFFF

set the service IP address and output IP address in the same segment network.

and make sure it's different with the NMS IP address segment

for example: nms:192.168.0.136 service ip:192.168.3.137 output ip:192.168.3.118:1001

make sure the received device IP address is the output IP address
Devices-Recommend
| | |
| --- | --- |
| If you need 24HDMI as input | Higher Resolution 4K |
| | |