Introduction
Sighton provides complete cable television solutions, including front-end equipment: encoder, receiver gateway, IRD, and mux-scrambler modulator, and corresponding management software system: EPG, CAS, SMS, and ADS system. For users such as hotels, and communities, Sighton provides economical and simple CATV solutions, which only need one unit ——encoder modulator integrated to complete the digital front-end.
As we know cable television is also called CATV. Cable TV sends recorded programs to users through cables (cables or optical cables), and then replays them on TV sets, so it is also called closed-circuit television. Cable TV is a type of paid TV that is paid for by viewers rather than sponsors.
This contrasts with terrestrial television, in which the television signal is transmitted over the air by radio waves and received by a television antenna attached to the television; or satellite television, in which the television signal is transmitted over the air by radio waves from a communications satellite orbiting the Earth, and received by a satellite dish antenna on the roof.
Solution1:

Completed with EPG,CAS,SMS,ADS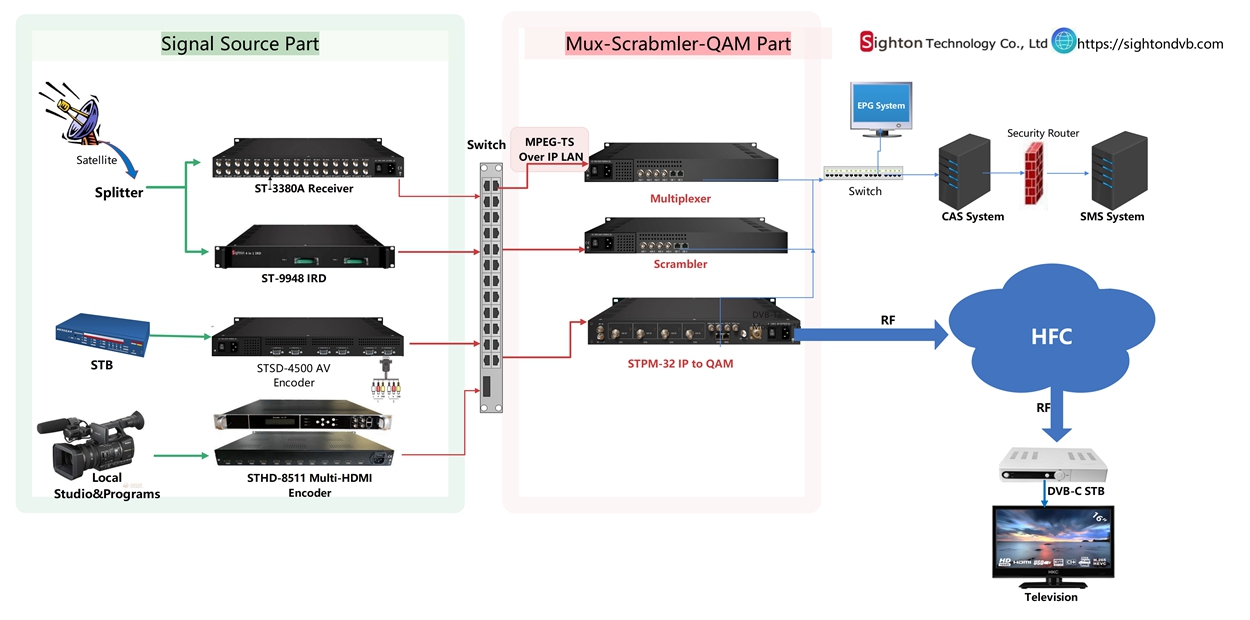 Signal Source Part
If the signal sources are from satellites, a gateway receiver (ST3380-A) is recommended, which converts the DVB-S/S2 signal to IP streaming. Please kindly note if you need to receive encrypted programs on satellites, we need to use IRD STSS-9948 to receive the signal and decrypt them.
While sometimes we also need to distribute A/V or HDMI audio video from local studios, a high-quality encoder STHD-8511 is needed with H.264/MPEG2 encoding.
Mux-Scrabmler-QAM Part
STPM-32 32 in-1 IP QAM modulator has 32multiplexing channels, 32 scrambling channels, and 32 QAM (DVB-C) modulating channels, and supports a maximum of 512 IP input through the 3 GE ports and 32 non-adjacent carriers (50MHz~960MHz) output through the RF output interface. The device is also characterized by a high integrated level, high performance, and low cost. This is very adaptable to the newly generation CATV broadcasting system.
Conditional access and user management
The Conditional Access System(CAS) is the key position between the Scrambling of the multiplexed programs and the Subscriber Management System. The provider can control the system, add/reduce programs, or embed other business content. By means of management and authorization, the provider can achieve paid services. In order to cater to the needs of an ever-expanding digital television network, our CAS enables TV operators to deploy a medium-sized TV network in the initial phase and large-scale network expansion phase wherever in cable, satellite, or terrestrial. Furthermore, CAS supports a number of mechanisms of content protection for better operator investment, such as 3DES and AES encryption algorithms, smart card & STB binding, zone control, black list management, and so on.
SMS(Subscriber Management System)–supports flexible subscriber management and servicing operations, including value-added services such as message charging, voice charging, and malfunction reporting. The system is based on a modular design, so that customers are able to choose different modules and interfaces in accordance with their own needs, or request dedicated modules and interfaces to achieve seamless merging with their existing systems.
Meanwhile, we could also integrate the customer's office automation system, equipment management system, and program management system onto a unified platform, with necessary re-design for system reliability and safety as a whole.
Solution2:

Popular Simple& Economical

For the hotel or community, we recommend a cost-effective solution. Only one set encoder modulator integrated all-in-one (S6201-EM) is needed as the front-end system equipment to convert the satellite signal received by the set-top box into an RF signal.
Or just use one unit DVB-S/S2 to QAM RF Modulator (STMQ-800) without using STB.
Advantage
Provide an end-to-end solution with easy management and maintenance. (Hardware and software included)

The viewing quality is good since TV signals are transmitted through cables and are not blocked by tall buildings and mountains

Fully utilized and more channels can be provided, since cable TV can use adjacent frequency transmission, unlike radio, which must use separated frequency transmission in an area to prevent interference, so spectrum resources can be

Cable solution can also realize two-way transmission of signals through cables, can provide interactive two-way services, can also easily realize charge management, and carry out various paid services.

Cable TV stations do not need expensive transmitters and huge iron towers, so the cost of building a station is low, which is conducive to rapid development.

The cable TV system not only receives and rebroadcasts the programs of major TV networks but also provides its own recorded programs with different thematic content, providing subscribers with more program choices.

A simple and low-cost system can also support at least dozens of programs and a large number of set-top box users
How to upgrade a TV system from analog to digital?
First, we need to know the composition of the previous analog system.
For example, the analog system is connected by AV signal + analog modulator
Head-end upgrade

Use the AV encoder to receive the AV signal, and after encoding, it becomes a digital signal, and then use IP QAM to multiplex, scramble, and modulate the output
Transmission section

Still use the previous coaxial network

End users

Add digital set-top boxes

Other Solution-Recommend
Digital Head-end Television

System:

Compare with IPTV Solution: